Several Indian origin Scientists abroad keen to return home : Dr. Jitendra Singh » Bhajpa Ki Baat
Union Minister of State (Independent Charge) Science & Technology; Minister of State (Independent Charge) Earth Sciences; MoS PMO, Personnel, Public Grievances, Pensions, Atomic Energy and Space, Dr Jitendra Singh said that India is today witnessing a sort of reverse brain drain with several Indian origin Scientists abroad keen to return home and the credit for this goes to the enabling atmosphere generated by Prime Minister Narendra Modi.
The Union Minister was speaking at an event to mark 36th Foundation Day of the Department of Biotechnology at the Regional Center of Biotechnology, Faridabad, Haryana.
The Minister also released New Guidelines for Ease of Doing Science; Towards "Less Government More Governance" and Directory for the Ramalingaswami Re-entry Fellows along with inaugurating the Ramalingaswami Re-entry Fellowship conclave. Ramalingaswami Re-entry Fellowship is a prestigious scheme of the Department of Biotechnology, launched in 2006-07 with the aim to bring back the Indian Scientists working abroad.
Dr.Jitendra Singh congratulated the Department of Biotechnology on its 36th Foundation day and said that the DBT over the past 36 years has impacted Biotechnology research and development, education and innovation across the country.
The Minister noted that the Department of Biotechnology (DBT) used Covid as the opportunity to showcase to the world what it is all about. He said that the Department has contributed to the development of all aspects of Biotechnology and the best of biotechnology is yet to come.
Dr.Jitendra Singh said that the DBT has the mandate of promoting and nurturing Biotechnology by creating a strong ecosystem for facilitating basic, early and late translational research and entrepreneurship and also formulation of policies and guidelines in all sectors of biotechnology. This is being achieved through promotion of research, innovation and technology leading towards product development; building capacities, both human resource and infrastructure; establishing national and international partnerships.
Dr.Jitendra Singh said that the DBT has also established 15 theme-based autonomous institutions across the country. One international institution namely the New Delhi centre of the International Centre for Genetic Engineering & Biotechnology and two Public Sector Undertakings BIBCOL and BIRAC have also been established for manufacturing of biologicals and fostering and nurturing the startup innovation ecosystem.
The Union Minister also outlined the commendable role of the DBT towards the mitigation of COVID-19 pandemic and especially under the Mission COVID Suraksha, DBT has played crucial role towards development of vaccines against COVID-19.
Dr.Jitendra Singh maintained that the biotechnology sector in India has evolved over the last three decades and has made significant contribution in various sectors including health, agriculture etc. Due to enormous support received both from government & private sector, biotechnology sector has seen a rapid growth and India is now being rated among top 12 biotechnology destinations in the world.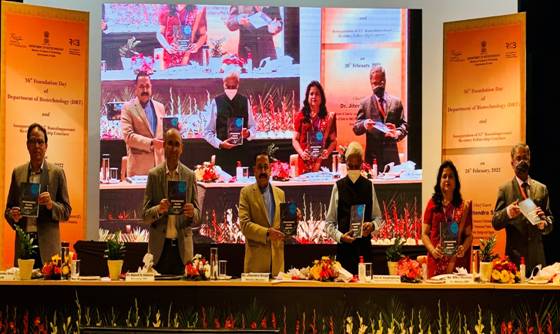 On this occasion, the DBT Foundation day lecture was delivered by Padma Santosh Yadav, first woman who scaled Mt Everest twice. She shared her experiences and challenges of mountaineering with scientists and fellows.
(News Source -Except for the headline, this story has not been edited by Bhajpa Ki Baat staff and is published from a kamal sandesh feed.)