Union Home Minister interacts with 200 tribal youth under the Tribal Youth Exchange Program (TYEP) in New Delhi » Bhajpa Ki Baat
Union Home Minister and Minister of Cooperation Shri Amit Shah interacts with 200 tribal youth under the Tribal Youth Exchange Program (TYEP) in New Delhi, today.
During his interaction with the tribal youth, the Union Home Minister said that today, a lot of opportunities are available for people of tribal community. He said that it is a matter of pride that a tribal woman, Smt. Droupadi Murmu, is the President of India. Shri Shah said that the Prime Minister Shri Narendra Modi has decided to build 10 tribal museums across the country at a cost of Rs 200 crore in the memory of the tribal freedom fighters who sacrificed everything in the country's freedom struggle.
Union Home Minister and Minister of Cooperation said that Left Wing Extremists and their ideology are against the country's development and bright future. He said that those who do not want mobile towers, roads and other essential facilities in Left Wing Extremism-affected areas, are creating hurdles in the way of a bright future of the youth. Shri Shah said that violence cannot provide jobs and that it is necessary to join the mainstream of society for development and creation of basic infrastructure. He added that tribal youth should play an important role in eradicating the idea of Left Wing Extremism from the country. The Home Minister says that it is the responsibility of the tribal youth to neither tread on the wrong path nor allow others to do so.
Shri Amit Shah said that the tribal youth should tell everyone back home that today, the country is progressing in every field and there are ample opportunities for the tribals in every field. He said that birthplace is not important, but the work a person has done in life is important. He said that wealth, knowledge and respect can only be achieved through hard work.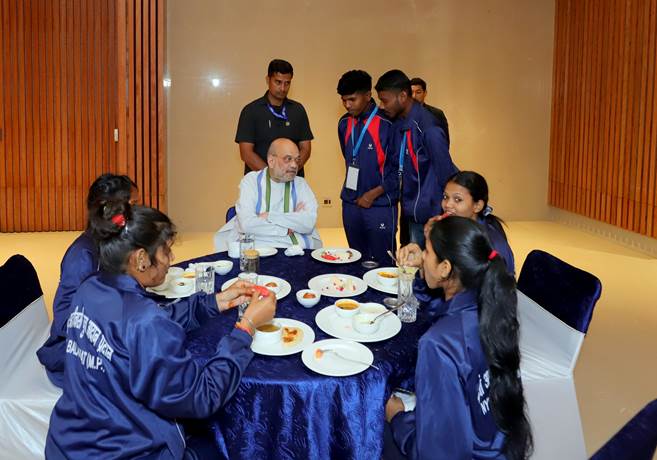 The Ministry of Home Affairs has been running the Tribal Youth Exchange Programme (TYEP) for the last 15 years. The programme is being run through Nehru Yuva Kendra Sangathan (NYKS) under the Ministry of Youth Affairs and Sports. Under this programme, young men and women of the tribal community from the interior areas most affected by Left Wing Extremism are taken on a tour to major cities and metros across the country. The main objectives of this programme are:
Promoting the aspirations of the youth in areas affected by Left Wing Extremism.
Countering the propaganda against the government being spread by CPI Maoists.
Informing the youth of tribal areas about the development activities and industrial progress and to sensitize them about the rich cultural heritage of India.
Deepening the confidence in democratic system in these areas.
Spreading awareness about major development and welfare schemes among the youth of the tribal community.
Developing an emotional bonding between youth belonging to the tribal community and their peer groups in other parts of the country.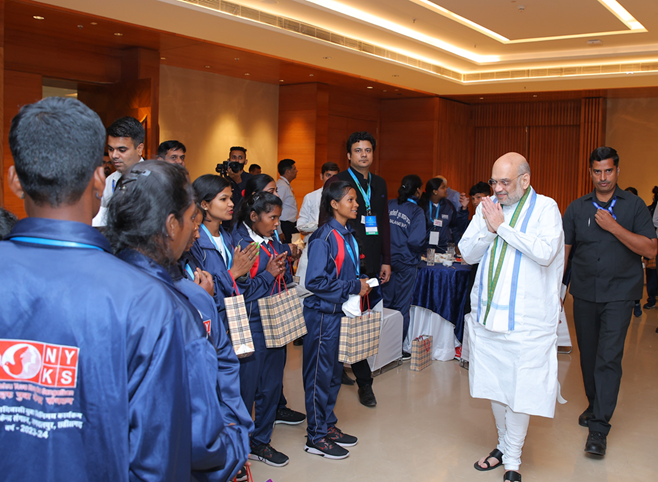 In the Tribal Youth Exchange Programme 25,880 youngsters from the tribal community have participated from 2006-07 to 2022-23. Out of these, 20,700 youth have participated in the last 9 years from 2014-15 to 2022-23, and 10,200 youth participated in the last 4 years from 2019-20 to 2022-23. This year 5000 young men and women are participating in TYEP. Earlier, 2000 participants were taking art in this programme every year, which was increased to 4000 in August 2019 and further to 5000 participants per year in 2022.
In this programme, constitutional authorities, senior government officials, outstanding achievers in sports, industry, arts etc., and other role models are invited to interact with the youth. Apart from this, industry exposure trips, activities under Azadi Ka Amrit Mahotsav, speech competitions, skill development, career guidance, exposure to sports events, visits to the camps of security forces, and cultural programs, etc. are also organised. Further, when these youngsters return to their native places, a programme is organized whereby they share their experiences with other youth and residents of their area.
Under TYEP, this year youth are being taken on a tour to major cities and metros across the country in 25 groups. Each group will have 200 young men and women from the interior areas most affected by Left Wing Extremism.
Three groups are visiting the national capital New Delhi this year. The first group is visiting Delhi from 15th – 21st October and includes 140 participants from Bijapur, Sukma, Bastar, Dantewada, Kanker, Narayanpur and Rajnandgaon of Chhattisgarh and 60 participants from Balaghat, Madhya Pradesh.
Related
(News Source -Except for the headline, this story has not been edited by Bhajpa Ki Baat staff and is published from a kamal sandesh feed.)