Union Home Minister addresses the Hyderabad Liberation Day celebrations in Telangana » Bhajpa Ki Baat
Union Home Minister and Minister of Cooperation Shri Amit Shah addressed the celebrations of Hyderabad Liberation Day in Telangana today as the chief guest. Shri Amit Shah also virtually laid the foundation stone of 48 Type-III family houses of SSB, Ibrahimpatnam costing Rs 20 crore. Many dignitaries including Union Minister Shri G Kishan Reddy, Union Home Secretary, Secretary, Ministry of Culture, Director, Intelligence Bureau, Director General, CRPF and Director General, SSB were present on the occasion.
In his address on this occasion, the Union Home Minister said that today Telangana is completing 75 years of the liberation and if the Iron Man Sardar Patel had not been there, Telangana would not have got liberation so soon. He said that it was Sardar Patel who, following the principle of Nation First, planned the Hyderabad Police Action and forced the Nizam's Razakars' army to surrender without bloodshed. Shri Shah said that the duo of Sardar Patel and KM Munshi worked to connect Bidar of Telangana region of Karnataka and this vast area of Marathwada with India. He said that for the liberation of Telangana, Swami Ramananda Teertha, M Chinnareddy, Narasimha Rao, Shaik Bandagi, K V Narasimha Rao, Vidyadhar Guru, Pandit Keshavrao Koratkar, Anabheri Prabhakari Rao, Baddam Yella Reddy, Ravi Narayan Reddy, Burugula Ramakrishna Rao, Kaloji, Narayan Rao, Digambarrao Bindu, Vamanrao Naik, Waghmare and countless people like them sacrificed everything.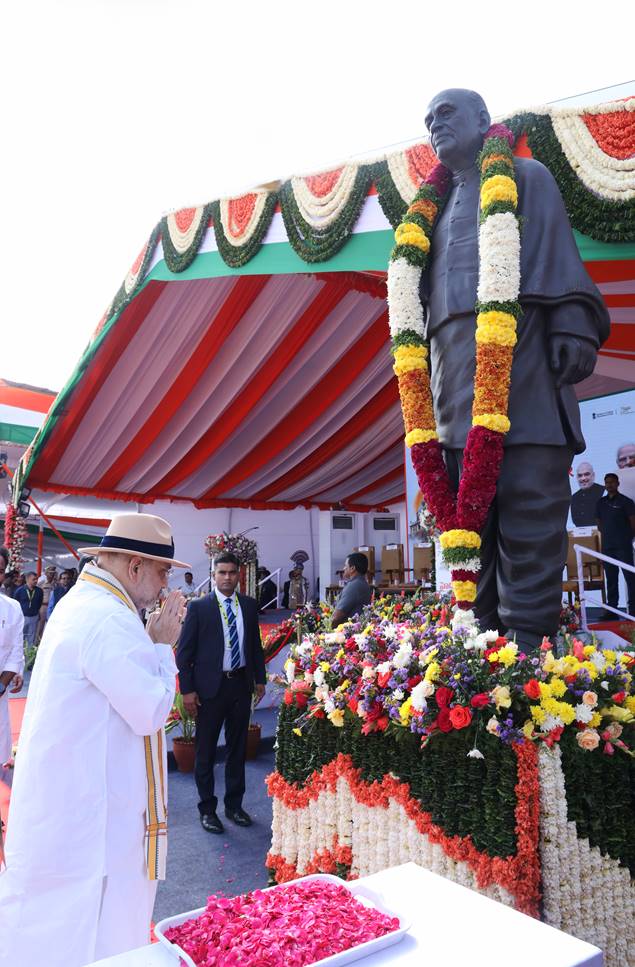 Shri Amit Shah said that recently the country has celebrated its Independence Day and today is Telangana Liberation Day. He said that even after liberation from British slavery, the cruel Nizam ruled here for 399 days, those 399 days were full of torture for the people of this region. Shri Shah said that Sardar Patel liberated this area by respecting the sentiments of the people. He said that many organizations contributed to the Telangana liberation movement, like, Arya Samaj, Hindu Mahasabha, Osmania University and the work of finalizing the Telangana liberation movement was done by our Iron Man Sardar Patel along with the farmers and youth of Bidar region.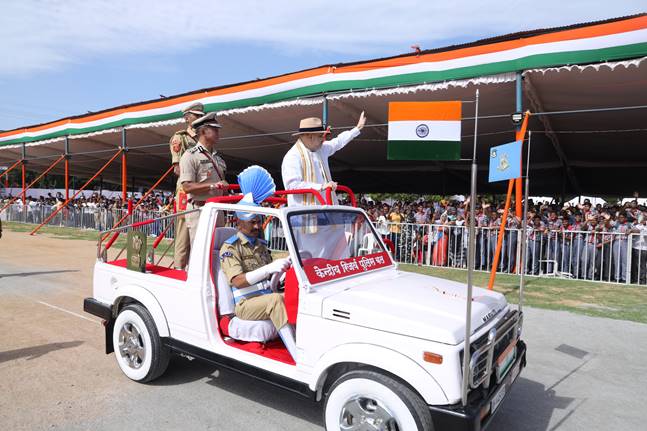 Union Home Minister said that for 75 years, because of the appeasement policy no government in the country made any effort to inform our youth about this great day. He said that Prime Minister Shri Narendra Modi started a new tradition on completion of 75 years of Telangana Liberation on September 17, 2022 that the Ministry of Culture of the Government of India will celebrate Telangana Liberation Day every year on September 17. Through this, our new generation will be introduced to the struggle by paying tribute to those great martyrs. Shri Shah said that there are three objectives behind this – first, to inculcate the values of patriotism by telling the new generation about this great struggle; second, to pay tribute to the martyrs who sacrificed everything for the liberation of Hyderabad; and third, to rededicate oneself to the nation to fulfill the dream of building India as envisaged by the martyrs.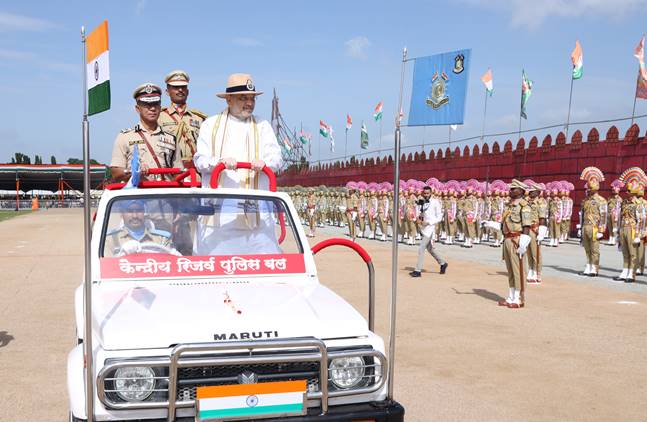 Home Minister said that the local public had endured immense torture during the 400 days of Nizam's rule. He added that Sardar Patel had said that slave Hyderabad is like a stomach cancer for India and there could be no other way out except operation and that is why he worked to liberate Hyderabad through police action. He said that it is a matter of great misfortune that even after the establishment of Telangana, the previous governments hesitated in celebrating Telangana Liberation Day due to vote bank politics. He said that those who turn their backs on the history of their country, the people of the country turn their backs on them. Shri Shah said that only by taking pride in the history of our country, martyrdom of martyrs, history of freedom struggle, we can take our country and Telangana forward. He said that the cruel rule of Nizam had created a distinction between Mafusa and non-Mafusa , Sardar Patel got rid of it. He said that Sardar Patel had done the work of liberating this region from the tyrannical Nizam rule. Shri Shah added that on August 10, 1948, Sardar Patel had said that there is only one way to solve the Hyderabad problem, the merger of Hyderabad with India. After this, the Nizam's army surrendered on September 17, 1948. He called the people of Telangana, Kalyana Karnataka and Marathwada that we should remember the memory of this day, our struggle and the sacrifice of the martyrs so that the coming generations can take inspiration and dedicate themselves towards the development of the country.
Shri Amit Shah said that the virtual foundation stone of family residences of Sashastra Seema Bal (SSB), Ibrahimpatam is laid today and it is a new beginning for the families of the soldiers from South India serving in SSB. He also informed that postal stamps have also been issued in the memory of famous journalist and martyr Shoaibullah Khan and Ramji Gond today.
Union Home Minister and Minister of Cooperation said that today is the birthday of our beloved Prime Minister Shri Narendra Modi, which we also celebrate as Seva Day. He said that in the last 9 years, under the leadership of PM Modi, the country has progressed a lot towards building the India as envisaged by our freedom fighters. Shri Shah said that in 2014 the Indian economy was the 11th largest economy in the world and today it has climbed up to 5th place under the leadership of PM Modi. He said that, with Chandrayaan, India has become the fourth country in the world to land on the Moon and through the G-20 meetings, Prime Minister Modi has made India's culture, art, food, costumes and languages world famous. He said that along with this, Prime Minister Shri Narendra Modi's efforts have led to the inclusion of the African Union in G-20, thereby making it G-21. Shri Shah said that the vision of Prime Minister Shri Narendra Modi regarding terrorism, climate change and economy has been accepted by the world leaders and it has become a global agenda through the Delhi Declaration. He said that the G-20 summit has brought the heritage of our country like Konark Temple of Odisha, Nalanda University, Madhubani Painting, etc. to the whole world. He said that under the leadership of Prime Minister Shri Narendra Modi, India's digital public infrastructure has received global recognition and the revolution brought by UPI, banking, Aadhaar and mobile technology in India has been praised by leaders across the world.
On Prime Minister Shri Narendra Modi ji birthday the Department of Empowerment of Persons with Disabilities (Divyangjan) under the Ministry of Social Justice organised a camp for distribution of motorised tricycles to Divyangjan. Union Home Minister and Minister of Cooperation Shri Amit Shah distributed 173 tricycles to eligible beneficiaries in Secunderabad Parliamentary constituency and Hyderabad city.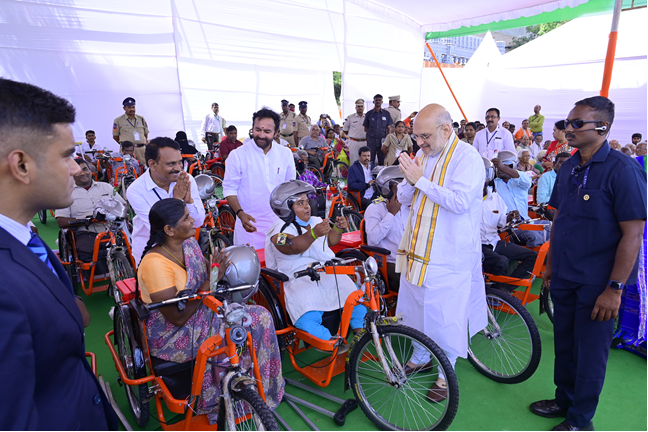 Related
(News Source -Except for the headline, this story has not been edited by Bhajpa Ki Baat staff and is published from a kamal sandesh feed.)