Union Cooperation Minister addresses 89th General Council meeting of the NCDC in New Delhi » Bhajpa Ki Baat
Union Home Minister and Minister of Cooperation Shri Amit Shah addressed 89th General Council meeting of the National Cooperative Development Corporation (NCDC) in New Delhi today.
In his address, Shri Amit Shah said that NCDC is playing a crucial role in fulfilling Prime Minister Shri Narendra Modi's vision of 'Sahakar se Samridhi. Cooperatives are the only medium for economic development of 60 crore population of the country, which do not have capital. He said that under the visionary leadership of Prime Minister Modi, since its formation the Ministry of Cooperation has taken 54 initiatives in the last 27 months to strengthen cooperative movement in the country and increase cooperatives' share in GDP. These initiatives have special focus on strengthening the Primary Agriculture Credit Societies (PACS). The initiatives aimed towards ease of doing business include computerization of PACS, model byelaws, widening the functioning of PACS to undertake more than 30 business activities like dairy, setting up of godowns, LPG/Petrol/Green energy distribution agency, banking correspondents, PACS can provide more than 300 services as Common Service Centres (CSC) and preparation of an updated data repository of cooperatives.
Minister of Cooperation said that significant initiatives like Jan Aushadhi Kendras, PACS as Pradhan Mantri Kisan Samridhi Kendra and PACS as Paani Samiti to undertake the work of Operation and Maintenance of Piped Water Supply schemes in rural areas can provide sustainable income to the PACS and employment opportunities to the youth in rural areas. He added that a National Cooperative Database has been developed with the assistance of State Governments, which is having comprehensive, authentic and updated data of more than 8.00 lakh cooperative societies.
Shri Amit Shah said that NCDC is implementing agency for various schemes of the Government of India and dovetail the subsidy component with its loan to benefit cooperative societies. He said that NCDC has disbursed financial assistance of more than Rs.41,000 crore in the Financial Year 2022-23 across the country including rural areas. Minister of Cooperation said that NCDC is set to achieve 10 times growth in disbursement of financial assistance in the current financial year from Rs. 5,300 crore in 2013-14. Shri Shah said that with such an impressive performance, I am confident that the NCDC will be able to achieve the target of Rs. 50,000 crore kept for 2023-2024. He added that it is a matter of pride that net NPA of the Corporation is maintained at 'Zero' with loan recovery rate being over 99% for 2022-23.
Union Minister of Cooperation said that NCDC should set a target of achieving Rs.1 lakh crore yearly disbursement in next 3 years along with targets for every quarter. The Minister desired that NCDC should explore avenues for borrowing on lower rates and lend to cooperative sector keeping the interest rate low. NCDC's objective must not only to make profit but to achieve overall development of cooperative sector.
Shri Amit Shah lauded the role of the NCDC in helping cooperative development in the country, he said that from agricultural marketing and inputs to processing, storage and cold chain the ambit of NCDC has widened to include areas in keeping with the needs of the society and boost income of youth in the country. He said there are more than 8.00 lakh cooperatives in the country with 29 crores farmers as their members. Since its inception in 1963 NCDC has provided cumulatively financial assistance of Rs.2,78,378 crore to cooperatives including agricultural and horticulture cooperative societies.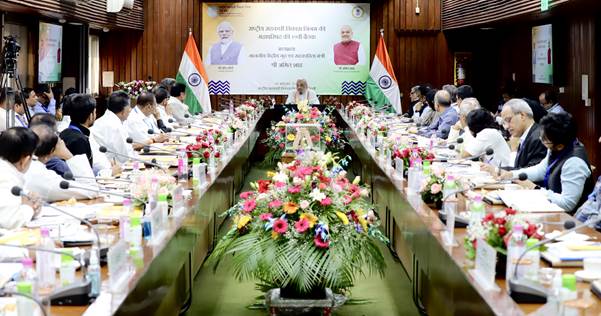 Minister of Cooperation also said that work is on to bring uniformity in the working of the PACS, which have different by-laws in the country. He added that most of the states/UTs have adopted the model by-laws on PACS drafted by the Ministry of Cooperation. Shri Shah said that the scope of work of PACS has been widened now, they can work in 25 different areas like dairy and fishery and can also work as Common Service Centres (CSCs).  PACS by becoming CSCs can provide more than 300 services to rural people.
Shri Amit Shah said that recognizing the potential of the NCDC, it has been designated as a project implementing agency under the world's largest food storage scheme in the cooperative sector. NCDC is one of the implementing agencies promoting the Government of India's ambitious schemes such as the Formation and Promotion of 10,000 Farmers Producer Organizations (FPOs) which provide for registration and support of new cooperatives as FPOs. NCDC is also an implementing agency for Formation and Promotion of Fish Farmers Producer Organisation (FFPOs) under Pradhan Mantri Matsya Sampada Yojana.
Union Minister of Cooperation emphasised that NCDC should focus on promoting the three new national level cooperative societies on Exports, Organic and Seed production, so that these societies grow in their business like many big brands in cooperative sector. NCDC should also be the first contributor of equity in the proposed umbrella organisation of Urban Cooperative Bank.
Related
(News Source -Except for the headline, this story has not been edited by Bhajpa Ki Baat staff and is published from a kamal sandesh feed.)