Start-up Conclave at IISF, Bhopal will showcase 300 Deep Tech success stories with tech-innovative products and technologies: Dr Jitendra Singh » Bhajpa Ki Baat
Union Minister of State (Independent Charge) Science & Technology; Minister of State (Independent Charge) Earth Sciences; MoS PMO, Personnel, Public Grievances, Pensions, Atomic Energy and Space, Dr Jitendra Singh today said, the StartUp Conclave at India International Science Festival (IISF)-2022 at Bhopal will showcase 300 DeepTech success stories with tech innovative products and technologies in the areas of Health, Agriculture, Industrial Technology, IT, Mobility and Education.
At a joint meeting of six Science Ministries and departments, including Science & Technology, Biotechnology, CSIR, Earth Sciences, Space and Atomic Energy, Dr Jitendra Singh reviewed the preparedness of IISF Bhopal to be held from 21st to 24th January, 2023 and emphasised integrated Start-Ups and integrated R&D.
Dr Jitendra Singh was pleased to note that the Start-Up ecosystem in India has gathered momentum since Prime Minister Narendra Modi unfurled the national flag at the Red Fort in 2015 and gave the slogan of Start-Up India Stand-Up India, thus unveiling a new vision for the country's economy. He said, from 350 odd start-ups in 2014, the number swelled to 75.000 in August, 2022 and only in a few months, the number of Start-Ups climbed up from 75,000 to 88,000 spread across 653 districts of the country. The burgeoning sector has generated more than nine lakh job opportunities, he added
The Minister said, India is also home to 107 Unicorns (companies that reach a valuation of $1 billion without being listed on the stock market) and 23 of them emerged in 2022 itself. He said, as per International Data, till November 2022, the US leads the start-up industry globally with 704 unicorns, followed by China, which had 243 unicorns, and India is catching up very fast.
Dr Jitendra Singh said, the Start-Up conclave in Bhopal will have exhibits by enablers offering incubation services and shared infrastructure and there will be focused discussions for start-ups, enablers and stakeholders for peer-to-peer learning, networking and sharing best practices. He said, guidance on forming start-up and availing enabling opportunities under Start-Up India will also be provided at the venue.
Some of the important Prime Speakers and Experts who are taking part in IISF, Bhopal are Dr. Krishna Ella, CMD, Bharat Biotech, Dr. Archana Sharma, CERN,Geneva, Shri S.Somanath, Chairman, ISRO, Sh. Anand Deshpande, Founder & CMD Persistent Systems, Prof. A. P. Dimri, Director, DST-IIG, Dr. Anil Bhardwaj, Director, PRL, Prof. AmitavaPatra, Director, INST Mohali, Prof. Tapas Chakraborty, Director IACS.
Face-to-Face with New Frontiers in Science will be a platform for cordial interaction and short discussion-based sessions of students/ researchers with people par excellence in various disciplines of S&T. This will certainly inspire students to pursue science and research in his/ her career.
Dr. Krishna Ella, CMD, Bharat Biotech, will lead the session titled "Powering Atma Nirbhar Bharat through Science and Entrepreneurship", while Sh. Anand Deshpande, Founder & CMD Persistent Systems will Chair the Session on "Technological Advancements in Data Science and India's leadership in Digital Transformation".
Dr. Archana Sharma, CERN,Geneva will be the Key Speaker on"Journey of a scientist in Unlocking secrets of the universe" , while ISRO Chairman will Chair the Session on "Marching towards Amrit Kaal with Technological Strides in Frontiers of Space".
Young Scientist Conference will be organised from 22nd January to 24th January. This event is intended for young scientists, Researchers, Faculties and Science Innovators from National laboratories, Academic institutions and from Scientific Industry fraternity. The themes selected for the Young Scientist Conference are Frontier areas of Science Research, Pandemic Challenges, impacts and research in vaccine development, Water resources, conservation, recycling and purification, Biodiversity, Environment & Climate Change, Food and Energy Security for Self-Reliant India.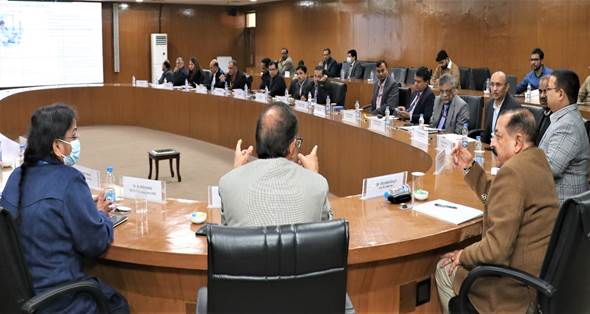 New Age technologies show (22-24 January) aims to promote innovation in cutting-edge technologies such as Artificial Intelligence Machine Learning, Cyber Security, Block Chain, Digital Currency Industry, 4.0, 5G/6G, Quantum Computing, Semiconductor Chip Design, Drone Technologies, Green Energies, Space Technologies, Sensor Technologies, Systems and Synthetic Biology.
There will be NATS Exhibition/ Innovation Showcase [100], where Students will showcase the engineered prototypes and products in various cutting-edge areas.
The meeting was attended by Principal Scientific Advisor to the Government of India, Secretary, DST, Secretary D/o Space, Secretary, M/o Earth Sciences, Secretary, D/o Biotechnology, Secretary, DSIR and representatives and senior officials of other science departments.
Related
(News Source -Except for the headline, this story has not been edited by Bhajpa Ki Baat staff and is published from a kamal sandesh feed.)