Space technology will open new vistas for start-ups and innovation in Jammu region: Dr. Jitendra Singh » Bhajpa Ki Baat
While inaugurating North India's first-ever Space Centre in Jammu today, Union Minister of State (Independent Charge) Science & Technology; Minister of State (Independent Charge) Earth Sciences; MoS PMO, Personnel, Public Grievances, Pensions, Atomic Energy and Space, Dr Jitendra Singh described this as a historic decision and said that most of space technology institutes were in the past confined to Southern States and the only-of-its-kind Indian Institute of Space and Technology imparting Engineering, Aeronautics and other streams was located in Thiruvananthapuram. The opening of the Space Centre and the India's second-of-its-kind Space Training Institutes in Jammu & Kashmir in 75th years of independence simultaneously marks the march of space journey from Kerala to Kashmir under Prime Minister Narendra Modi and at the same time naming it as Satish Dhawan Centre is befitting tribute to one of the founding-fathers of Indias' Space programme who hails from Jammu & Kashmir but ironically not a single institute in J&K was named after it.
The Minister said that the future of the world will hugely depend on the upcoming space economy, space collaboration and space diplomacy. Referring to the space economy, he mentioned that India is already receiving revenue worth millions of European Euros and US Dollars through the launching of foreign satellites. Referring to space collaboration, he cited the example of the SAARC satellite which was visualised and developed on the instructions of Prime Minister Narendra Modi, which caters to needs of most of the neighbouring countries including Bangladesh, Bhutan, Sri Lanka, Nepal, etc.
The Minsite said the credit entirely goes to Prime Minister Narendra Modi for unlocking space technology and opening it to private players.
Dr. Singh also said that India is entering into an era when it is going to play a pivotal role in space technology with India already having taken a lead in the world as far as space technology is concerned. He also said that the twenty five years from here would be crucial for the country as said by the Prime Minister Sh. Narendra Modi. Dr. Singh maintained that the ascent of India as a frontline nation of the world has already started through the medium of space.
Dr. Singh stressed that today is a historical day for the entire North India with the inauguration of Satish Dhawan Centre for Space Sciences at Central University of Jammu & a conference on 'Frontiers of Space Technology and Applications for Humanity' in collaboration with Indian Institute of Space Science and Technology (IIST), Thiruvananthapuram.
Dr. Singh said that most of the space technology from the last seventy years has been confined to South India mostly to the states of Andhra Pradesh, Karnataka, Kerala which was an anomaly in the spread of space technology in the country. Dr. Singh maintained that this government is steadfast to take space technology to the remote corners of the country which is evident today with the inauguration of Satish Dhawan Centre for Space Sciences at Central University of Jammu and the other Space Centre has already been established at Agartala Tripura with the support of Prime Minister of India who is himself a space technology enthusiast.
Addressing the conference on 'Frontiers of Space Technology and Applications for Humanity' at CUJ, Dr. Singh said that the space technology in the country is advanced to the stage that the premier space institutes like NASA requests for the footage of many space adventures brought about by ISRO. The Minister further said that the space technology has been given prime importance by this government and the results are before us with the discovery of water by Chandrayaan not being done even by premier space technology nations showing that India has already taken a lead.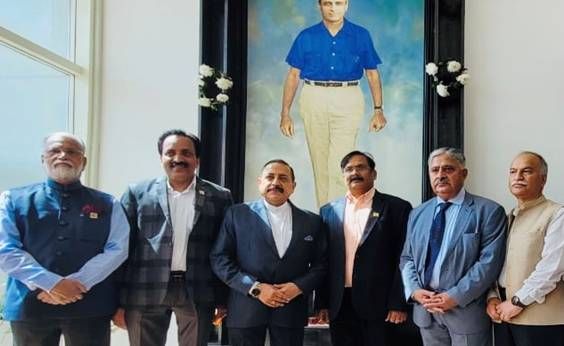 Dr.Jitendra Singh said that sixty students will be taken in the course of B. Tech in Aviation and Aeronautics through this institute through JEE in order to build this institute into one of the premier institutes in the country. Dr. Singh also said that the students after studying Aviation and Aeronautics from here would be able to find a career in space technology not only in India but in space institutes like NASA as space technology has huge career opportunities available.
Dr. Singh emphasized that this institute would be an institution for startups in space technology as well especially in J&K and people from this region should use this enormous opportunity as provided by the government to shape their future and get rid of the yesteryear mindset of depending on a government job. Dr. Singh added that the Ministry of Science and Technology will start the awareness programs related to Startups across the country from the next month.
Dr. Singh said that the startups and the sustainable startups are linked to livelihood, the Jammu being the birth place of Aroma Mission with people earning in lakhs with these startups& Jammu has a great Dairy and Agriculture potential which needs to be explored.
Paying rich tributes to Satish Dhawan, Dr. Singh said that Satish Dhawan being the son of the soil & the doyen of space technology in India was to be celebrated much earlier in J&K but it took us seventy years to celebrate his contribution today in the form of this institution at Central University of Jammu. The minister added that the actual is restored today what actually belongs to J&K and will now connect Kashmir to Kanyakumari.
Dr.Jitendra Singh said, ever since Narendra Modi took over as Prime Minister, India's Space Technology is being applied in diverse fields and sectors to bring "ease of living" for common man. He said, Space and satellite technology is today being extensively used in railways, road and bridge construction, agriculture, soils, water resources, forestry and ecology, housing, tele-medicine, disaster management and accurate weather forecast to name a few.
Former Chairman, ISRO, Dr. K Radhakrishnan in his address said that when India has become a role model for the rest of the world in terms of Space Technology, Satish Dhawan is a reverential role model for the students. Dr.Radhakrishnan wished that this institution would be the prestigious institution in years to come all over the country like the other premier space institutes.
Chairman ISRO, Sh. Somnath S said that space technology now is an integral part of life and safety and security of this nation will depend on how strong the nation is going to be in space sector. The chairman further said that the communication revolution which is important in many ways like in the growth of industries, space has to be behind it.
Dr. Sam Dayala Dev, Director, IIST, Dr. Y V.N Krishnamurthy, Registrar, IIST, Sh. Sudheer Kumar N, Director, CBPO, Sh. Prakash Chauhan, Director, IIRS, Dr.Kuruvella Joseph, Dr. Amit Kumar Patra, Prof. Sanjeev Jain, Vice Chancellor, Central University Jammu besides other scientists and staff were present in the conference.
(News Source -Except for the headline, this story has not been edited by Bhajpa Ki Baat staff and is published from a kamal sandesh feed.)