Sarbananda Sonowal participates in the Stakeholders Meet to Unlock EXIM trade potential of Dhubri Port » Bhajpa Ki Baat
Union Minister of Ports, Shipping & Waterways and Ayush, Shri Sarbananda Sonowal participated in the Stakeholders Meeting aimed at unlocking the Export Import (EXIM) trade potential of Dhubri port at Dhubri, Assam today. Organised by the Inland Waterways Authority of India (IWAI), the meet was attended by senior officials of IWAI, including Sanjay Bandopadhyay, Chairman, IWAI as well as Inland Waterways Transport, Government of Assam along with stakeholders & business groups from Bangladesh and Bhutan. The meeting discussed various issues plaguing the smooth operation of the port as well as other limitations faced by the business interest groups to optimally use the Dhubri port.
Speaking on the occasion, the Shri Sarbananda Sonowal said, "Under the dynamic leadership of Prime Minister Shri Narendra Modi ji, we have been working constantly to improve the transportation sector of the country. Going by the 'Transformation via Transportation' vision of PM Modi ji, we have given increasing importance to rejuvenate our rich and complex inter web of riverine system to act as an effective alternative mode of communication for both cargo and passenger traffic. It has been established that inland waterways is the most cost effective, efficient, environment friendly mode of modern transportation. By investing in the infrastructure to ensure smooth conduit via inland waterways, we are committed to unlock the value & economic potential of the interior parts of India. Dhubri, with its rich history as a thriving river port, is poised to unlock huge value by acting as a lynchpin of growth for the region. Today, after our discussion with the trade stakeholders from Bhutan, Bangladesh and India, we have our task cut out. I assure you that all their needs and concerns will be satisfied in a time bound manner so that the optimum potential of Dhubri port can be realised. Given the immense potential of Dhubri port, we are also considering building a  modern integrated office complex where offices of Ministry of Ports, Shipping & Waterways, Ministry of Finance and Ministry of Home Affair will be present. A new warehouse as well as a new road are also being considered to be built at Dhubri port which will not only make it an attractive proposition but also allows our stakeholders an opportunity to unlock mutual growth in the region."
Highlighting the role of Dhubri and the region in the overall growth of the region, the Shri Sonowal, said, "Northeast India has remained more or less stagnant during the six decades of misrule by the Congress. None can deny the importance and opportunity that Northeast has received under the dynamic Prime Minister Shri Narendra Modi ji during nine years since 2014. As Modi ji has identified Northeast as the Ashta Lakshmi of India, there is no looking back for the region to get on with the growth and development. During these nine years, all the state capitals of the region, including Aizawl and Gangtok, situated at a considerable height from sea level, are being connected to the railway network of the country. Given our rich interweb of riverine system, the Modi government identified as many as 21 rivers of Northeast as National Waterways. For optimum utilisation & unlock tremendous value from this unique opportunity, our government remain deeply committed to invest and improve our infrastructure and provide a conducive environment for all our stakeholders to secure mutual growth and development. I have come to Dhubri on the directive of our Prime Minister as he is very much invested in the thought of unlocking the trade potential of this region where Dhubri port plays a crucial role. Given Modi ji's vision of 'Sabka Saath, Sabka Vikas,'  I am sure Dhubri port will reclaim its past glory."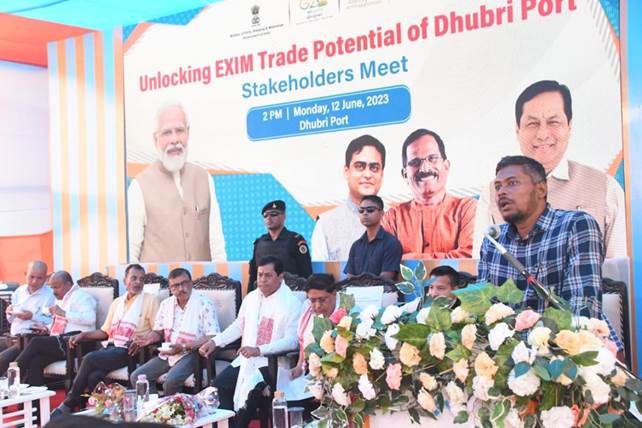 During the stakeholders meet, the stakeholders spoke about various issues and opportunities pertaining to the Dhubri Port. Among them, enhancement capacity of weigh bridge, installation moveable conveyor, exploring business 24*7 for swift movement of heavy vehicles, dredging needs especially during dry season for smooth passage of vessels, were raised. It was also communicated during the meeting that all the customs process will be digitised at Dhubri Port while the Port at Jogighopa is also likely to be operational within this year.
Related
(News Source -Except for the headline, this story has not been edited by Bhajpa Ki Baat staff and is published from a kamal sandesh feed.)