Piyush Goyal lauds GeM crossing Gross Merchandise Value of ₹2 lakh crore in 2022–23 » Bhajpa Ki Baat
In the financial year 2022-2023, procurement of goods and services from government portal Government e Marketplace  (GeM) has crossed the Rs 2 lakh crore mark, which is a remarkable achievement, said Union Commerce and Industry Minister Piyush Goyal, in Mumbai today. Commerce and Industry Minister highlighted the role of GeM as a digital tool in the public and national interest.  GeM is a symbol of the speed with which PM Narendra Modi has taken the country forward through modern technology, said the Minister. He was speaking at a press conference on the landmark achievement of GeM. Mediapersons from various parts of the country also joined the press conference via video conferencing.
Union Commerce and Industry Minister Shri Piyush Goyal congratulated GeM and its strong ecosystem of buyers and sellers, whose unwavering support has been pivotal towards achieving this historic feat. The Minister added that the Prime Minister desires that the Government departments run at the highest levels of integrity and transparency, with participation of people from the remotest corners of the country and enables women entrepreneuers, startups and the MSME sector to participate in a fair and equitable manner in government procurements.
"I am confident that GeM will grow faster, the future is very bright. I would like to appeal to more and more vendors to join GeM so that they too get a chance to participate in the government procurement process",  he also said.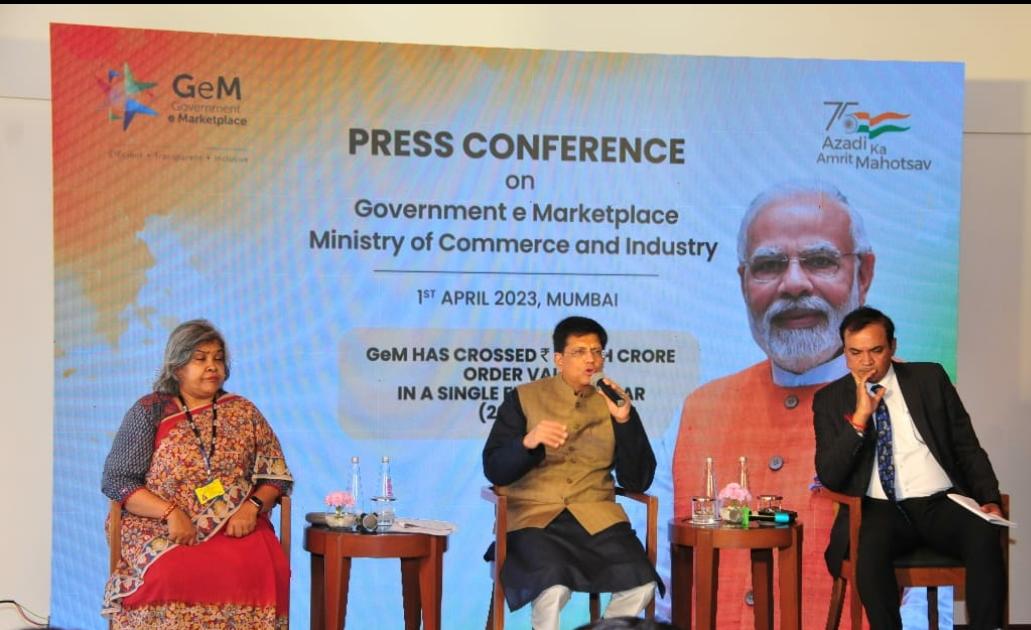 After the GeM portal was launched in 2017, business worth about Rs 400 crore was done, and in the second year, GeM did business of about Rs 5800 crore. The business through GeM has grown from around Rs 35000 crore two years ago and tripled last year to Rs 1 lakh 6 thousand crores, the Minister informed. Growing to Rs 2 lakh crores in 5 years shows that this experiment of the Prime Minister has been successful, he further stated.
The Minister also mentioned that India has crossed total exports of 750 billion dollars for the financial year 2022-23 and the final figure is expected to cross 765 billion dollars.
The G20 Trade and Investment Working Group Meeting was held in Mumbai recently, also saw positive discussions, he informed. The Union Minister expressed that India has got the Presidency of the G-20 under the leadership of Prime Minister Narendra Modi, and it is a great opportunity to showcase the achievements of the rapidly developing New India to the world.
Speaking about the Foreign Trade Policy 2023 released in New Delhi yesterday, he said that this has been welcomed by industry and trade. A sense of stability is reflected in the foreign trade policy, he added.
Speaking about the vision and journey ahead for GeM, CEO of GeM P.K. Singh, thanked all the stakeholders who are the primary drivers behind GeM's reaching such great heights.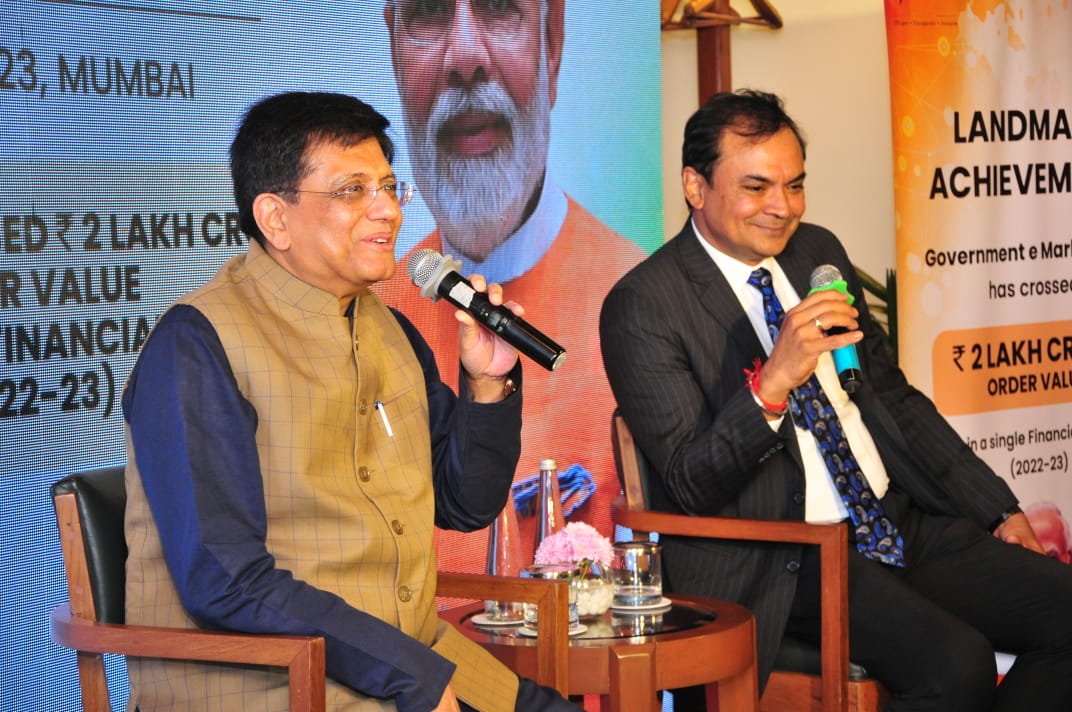 As on 31st March 2023, GeM has recorded a staggering ₹ 2 lakh crore of Gross Merchandise Value (GMV) in FY 2022-23. Cumulatively, GeM has surpassed the ₹ 3.9 lakh crore GMV since inception, with the overwhelming support of its stakeholders. The total number of transactions on GeM has also crossed 1.47 crore. GeM is catering to the diverse procurement needs of over 67,000 government buyer organisations. The portal features over 11,700 product categories with more than 32 lakh listed products, as well as over 280 service categories with more than 2.8 lakh service offerings. Based on various studies, the minimum savings on the platform are about 10%, which translates into a savings of ~ ₹ 40,000 crore worth of public money.
About Government e Marketplace (GeM)
Government e Marketplace (GeM) is an online platform for public procurement in India that was envisaged by the Prime Minister. The initiative was launched on August 9, 2016 by the Ministry of Commerce and Industry with the objective of creating an inclusive, efficient, and transparent platform for the buyers and sellers to carry out procurement activities in a fair and competitive manner.
In the last ~6.5 years, GeM has revolutionized the ecosystem of public procurement in the country through technology, the digitization of processes, the digital integration of all stakeholders, and the use of analytics. GeM is an example of how digital platforms created with a strategic and clear intent to reinvigorate and reimagine legacy processes can bring about lasting change for the nation as well as the underserved. GeM has been effectively contributing to the government's commitment of "Minimum Government, Maximum Governance".
The platform enables multiple procurement modes (direct purchase, L1 procurement, bidding, reverse auction, bid followed by reverse auction). GeM has evolved as a trust-based platform and is contactless, paperless, and cashless, where authentication of users is done through API integration with respective domain databases, i.e., Aadhaar, PAN, Startup, GSTN, MCA21, etc. The marketplace includes policies for automated market adjustments as well as end-to-end digital processes that support a thriving buyer-seller ecosystem.
GeM has also developed many important functionalities in consultation with its stakeholders, like Push Button Procurement, Single Packet Bidding, Annual Procurement Plan, Vivaad Se Vishwaas, Business opportunities on GeM and AI/ML-based use cases for helping the buyers make more informed decisions.
Through automation and digitization of processes, GeM has led to higher process efficiencies, better information sharing, improved transparency, reduced process cycle times, and a higher level of trust among bidders, which in turn have resulted in greater competition and higher savings. These innovations in GeM have also brought down waiting times and prices for buyers significantly and ensured timely payments to sellers. This is also expected to enhance the overall "Ease of Doing Business" while also promoting the highest standards of quality in public procurement in India.
Related
(News Source -Except for the headline, this story has not been edited by Bhajpa Ki Baat staff and is published from a kamal sandesh feed.)