Meenakashi Lekhi inaugurates 'Buddham Saranam Gacchami' exhibition at National Gallery of Modern Arts, New Delhi » Bhajpa Ki Baat
Union Minister of State for External Affairs and Culture Smt. Meenakashi Lekhi inaugurated the "Buddham Saranam Gacchami" Exhibition in the presence of senior Buddhist monks,  Ambassadors, diplomats and Ministry officials on May 10, 2023 at the National Gallery of Modern Arts, New Delhi. H.E. the Kundeling Tatsak Rinpoche of the Drepung Gomang Monastery was the Guest of Honour at the event.
The Exhibition organized in the week succeeding Buddha Purnima was based on the life of Lord Buddha and showcased the voyage of Buddhist art and culture around the world, exhibiting works of art by iconic masters of modern Indian art, divided into sections, each documenting a distinct facet of Buddhism and Buddha's life. These artistic works that have been put on display offer a glimpse into the history and philosophy of one of Buddhism.
The Exhibition started with the lighting of lamp and presentation of Angavastra amidst chanting by senior Buddhist monks. It was followed by a performance of "Shweta Mukti" which showcased feminine glory of Nirvana presented in Odissi Dance style by Kavita Dwibedi and her troupe.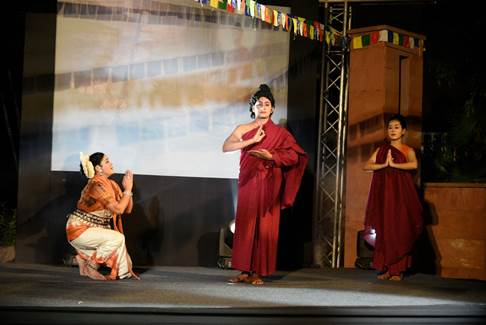 Missions of numerous countries were represented at the event through their Head of Missions and deputies. The inauguration was attended by most of the countries which have significant Buddhist population such as Nepal, Myanmar, Mongolia, South Korea, Thailand, Bhutan, etc. The exhibition also saw participation of Ambassadors from countries like Denmark, Greece, Luxembourg, Jamaica, Portugal, Georgia, Iceland, Ecuador, Syria, Peru and senior diplomats from many others.
The Exhibition showcases paintings from countries like Sri Lanka and Myanmar and showcased how Buddhism traversed across different countries. The aim of the exhibition is to delve into an exploration about the spirituality of art and their elements related with Buddhism and its journey expressing the universal values of wisdom, compassion, and peace.
The iconic Indian artist Nandalal Bose has explored the life and teachings of Buddha and his path of spirituality through line drawings with an ethereal quality. The scenic Himalayas in its true beauty find their representation in the works of Nicholas Roerich and Bireswar Sen. The diplomatic corps appreciated the Exhibition and the cultural programme as they got to know more about the life of Lord Buddha and the values espoused by him.
The Exhibition is open for public till 10th June at the National Gallery of Modern Arts, India Gate.
Related
(News Source -Except for the headline, this story has not been edited by Bhajpa Ki Baat staff and is published from a kamal sandesh feed.)