India's population dividend could be an instrument of nation building: Dr Jitendra Singh » Bhajpa Ki Baat
Union Minister of State (Independent Charge) Science & Technology; Minister of State (Independent Charge) Earth Sciences; MoS PMO, Personnel, Public Grievances, Pensions, Atomic Energy and Space, Dr Jitendra Singh today said that India's population dividend could be an instrument of nation building. Apart from youth, the elder citizens including the pensioners could also be channelised for building a strong and prosperous India.
Addressing a programme commemorating "9 Years of Department of Pension & Pensioners Welfare" at Vigyan Bhawan here, Dr Jitendra Singh said, if the 70 percent of the population of India is below 40 years of age, this is also a new reality that the actual number of 60 plus is increasing fast in India and they are not only fit and agile, but have a vast experience of administrative and sectoral sectors to contribute to India's "Vision of 2047". He said, the number of pensioners in India has outnumbered the serving employees and after retirement their valuable services can prove to be a game changer.
Dr Jitendra Singh pointed out that radical pension reforms and change in rules and regulations were carried out at the behest of Prime Minister Narendra Modi since 2014 in response to emerging societal needs. He said, DoPPW took measures not only for serving/retiring employees but also worked for the Ease of Living of pensioners and Digital Life Certificate was another step towards this direction. He pointed out that in November 2014, an Aadhar based scheme for online submission of digital life certificates, "Jeevan Pramaan" was launched by Prime Minister Narendra Modi to ensure transparency and "Ease of Living" for pensioners while submitting their life certificate.
The Minister informed that the Pension Department has undertaken a nation-wide Digital Life Certificate through Face Authentication campaign in the November, 22 which has resulted into 30 lakhs pensioners submitting their life certificate digitally. He also congratulated DoPPW for being the first Department in the Government of India to use Face Recognition Technology.
Dr Jitendra Singh also pointed out several humanitarian pension related policy changes like the dependent divorced daughter of a deceased govt. servant/spouse made eligible for family pension, enhanced Family Pension @50% of last pay drawn allowed in case an employee dies before completing 7 years of service, order making eligible child of deceased govt. servant/pensioner, suffering from a mental or physical disability, to received family pension for life if his/her overall income from sources other than family pension is less than the entitled family pension at ordinary rate and DR admissible, apart from relaxation in the provision of Family Pension for divorced daughters and Divyangs,
Dr Jitendra Singh also informed that at the behest of the Prime Minister, the Department also started a portal entitled "Anubhav" to show-case the experiences in Government of retiring officials which has now become a huge resource base for us. The Department not only introduced the concept of Pension Adalats but has leveraged technology to hold digital Adalats through video-conferencing.
Secretary, Department of Pension & Pensioners' Welfare, V.Srinivas said in his address that DoPPW has commenced a series of awareness programs for Bankers with a view to provide information about the latest pension rules/procedures reforms and welfare initiatives to Bank's field functionaries, handling pensions. He said, in line with the Government's objective of transparency, digitization and service delivery, the Bhavishya platform has ensured End-to-End digitization of the Pension processing and payment. From the retiree filing his/her papers online till issue of the PPO in electronic format going into the Digilocker, this platform has showcased the intention of complete transparency and efficiency of the Government, the 'Bhavishya' platform, an integrated online pension processing system was made mandatory for all central government departments w.e.f. 01.01.2017.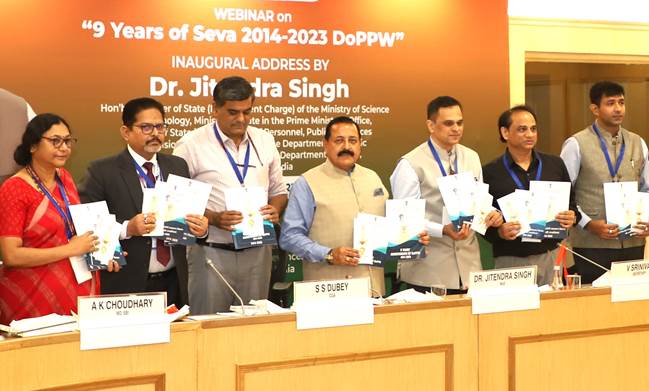 Related
(News Source -Except for the headline, this story has not been edited by Bhajpa Ki Baat staff and is published from a kamal sandesh feed.)