India aims to lead Global Maritime sector with the success of PM Maritime Amritkaal Vision: Sarbananda Sonowal » Bhajpa Ki Baat
The Union Minister of Ports, Shipping & Waterways (MoPSW) and Ayush, Shri Sarbananda Sonowal chaired a mid term review meeting here today. The meeting was held to determine a comprehensive approach towards swift and smooth execution of the 'PM Maritime Amritkaal Vision' with an ultimate goal to make India the global maritime leader by 2047.
Major programmes of the Ministry including its flagship programme Sagarmala as well as other prominent programmes were reviewed. The meet also inquired about the progress of 162 projects with an investment outlay of Rs.1 trillion. The Union Minister of State for Ports, Shipping & Waterways, Shantanu Thakur also participated in the deliberations along with the senior officials of major Indian ports, various PSUs, as well as other senior officials of the Ministry.
Speaking on the occasion, Shri Sonowal said, "India is standing at an extremely important stage towards becoming a global leader of maritime sector. Under the dynamic leadership of Prime Minister Shri Narendra Modi ji, the Maritime Amritkaal Vision, 2047 was launched exactly a month ago at the Global Maritime India Summit in Mumbai. The document is a manifestation of Modi ji's vision towards enabling India's ports, empowering shipping sector and rejuvenating waterways with an ultimate goal to turn India into global power in the maritime sector. We are working to make our ports break into the top 25 ports of the world. We must stick to the 'Panch Karma Sankalp' while aiming to execute the letter and spirit of the Vision Document towards realising the goal of India becoming the global leader in the maritime sector by 2047."
The meeting opens up an opportunity to review the holistic progress made under the 'Panch Karma Sankalp' announced during the 'Chintan Shivir' in May 2023. It is to be noted that during Chintan Shivir 2023 Shri Sonowal promised to take review of mid-year targets and today he acted upon on his promise.
Under the Panch Karma Sankalp announced during Chintan Shivir held JNPA, VOCPA, PPA, and DPA are in the process of finalizing Commercial Terms and Technical Specification with Cochin Shipyard Ltd (CSL) for awarding the contract for building the Green Tugs.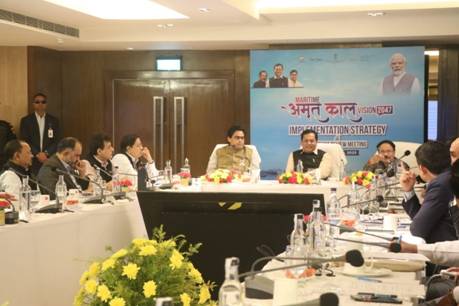 Adding further, the Minister said, "After a tremendous outcome at the GMIS, 2023, where we successfully closed 360 MoUs with an investment of Rs.10 trillion, it is now time for their speedy and smooth execution. We are setting up a monthly review mechanism to keep a tab on the progress of all these initiatives as well as timely review of Maritime India Vision 2030 as well as Maritime Amrit Kaal Vision 2047. Under the leadership of Prime Minister Shri Narendra Modi ji, we are focussing on scale and speed of achievements in the Sagarmala programme. Following on the 'Panch Karma Sankalp,' we are moving closer towards building 'Made In India' Green Tugs at Cochin Shipyard, opening a new vista of opportunities for export. We have also received encouraging response to set up Green Hydrogen Hubs at Deen Dayal port and VO Chidambaranr ports. Similarly, powering our waterways remains a major focus for the ministry as Modi ji direction to revive and rejuvenate inland waterways system to power the economy to reach its next logical destination of becoming world's top 3 economies."
While highlighting the efforts of the Government in the sector, Union Minister of State for Ports, Shipping & Waterways, Shri Shantanu Thakur said "India's shipbuilding and repair sector is poised for monumental growth. With the aim to be among the top five global players by 2047, we will foster policy support and financial assistance to boost this industry".
Deendayal Port Authority is setting up Green Hydrogen Hubs in which port has received prominent responses from 13 prospective developers against Global EoI. A total of more than 7 MMTPA capacity green Ammonia production has been offered by prospective Developers. The offered development will cater to the domestic and international demand of 1.4 MMTPA of Green Hydrogen.
VO Chidambaranar Port Authority has earmarked 500 acres of land for Green Hydrogen Hub. MoU has been signed between VoCPA and NGEL (Subsidiary of NTPC) for installation of Green Hydrogen/ Derivative Production Facility. Proposal for Grant for developing the common infrastructure to support the green Hydrogen Projects has been submitted to MNRE.
The Global Maritime India Summit, 2023, held in October, at Mumbai emerged as one of the world's largest maritime summits, attracting an investment of ₹10 lakh crore. This significant achievement aligns with the goals of the 'Amrit Kaal Vision 2047,' a vision document launched by Prime Minister Shri Narendra Modi during the event. Building upon the legacy of its predecessors, the third edition of GMIS unveiled broader prospects for domestic and international maritime stakeholders.
During this grand event a total of 360 MoUs were signed with a total value of Rs. 8.35 Lac Crore and along with the Investible Projects of Rs. 1.68 Lac Crore, the total monetary value was more than Rs. 10 Lac Crore. The themes of the various MoUs are Green Initiatives worth Rs. 3.8 Lac Crore; Port Modernization worth Rs. 1.5 Lac Crore; Port Led Industrialization worth Rs. 0.75 Lac Crore; Trade & Business worth Rs. 0.70 Lakh Crore; Knowledge exchange and Innovation, Ship Repair etc. worth Rs. 1.6 Lakh Crore.
The discussion on major port projects, including Vadhavan Port, Multi Cargo Berths at Tuna Tekra, International and Domestic Cruise Terminals, and the Development of Outer Harbour at VoCPA, marked the beginning of the meeting. Shri Sonowal urged ports to make optimal efforts to secure a spot in the top 25 World Port Ranking, emphasizing that remaining competitive requires improving positions in the annual "Global Ranking" published by the World Bank. All ports and agencies under the Ministry were directed to showcase their "Green Initiatives" on international and relevant forums. In FY-2022-23, a total of 177 projects were completed at Major Ports, while currently, 162 projects are at various stages of implementation with an investment exceeding Rs 1 Lakh Crore.
Currently, 800+ projects are worth more than Rs. 5.74+ lakh Crore are being monitored under the Sagarmala Programme, for implementation by 2035. Out of these, 237 projects worth Rs. 1.22 Lakh Crore have already completed 262 projects worth Rs. 2.44 lakh Crore are under implementation and 310 projects worth Rs. 2.08 Lakh Crore are under various stages of development. Further, under holistic development of coastal districts, a total of 567 projects with an estimated cost of around Rs. 58,000 Crore have been identified. Under the Sagarmala Programme, 94 Projects worth Rs. 31,597 Crore have been completed resulting in capacity addition of more than 230 MTPA.
Over the last 9 years, the number of seafarers has increased by 140%. In 2014, the total count of active Indian Seafarers was 117,090 which is 280,000 in 2023. The Directorate General of Shipping had approximately 1,699 women seafarers registered in 2014 which has now increased in 2023 to 10,440 reflecting an increase of 514% in the registered women Indian Seafarers.
The Third Dry Dock Project at Cochin Shipyard Limited with a total cost of Rs. 1,799 Crore will serve dual purposes i.e., ship building and ship repair. Once completed this dock is capable of handling capsize and suez max vessels, 174K LNGC, Oil Rigs and Semi Subs & Large Aircraft carriers. An International Ship Repair Facility (ISRF) worth Rs. 970 Crore is also being built. CSL is also building "Zero Emission, Zero Noise Vessel" with home grown technology.
With a vision of people to people connect between India and Sri-Lanka an international ferry service was flagged off from Nagapattinam, India to Kenkesanthurai, Sri Lanka on 14th October. A fair-weather vessel was engaged by Shipping Corporation of India for this international ferry service. HSC Cheriyapani successfully completed 4 round voyages between Nagapattinam and Kankesanthurai on 14th, 16th, 18th& 20th Oct 2023 safely and has catered to the requirements of passengers of both countries.
The Jal Marg Vikas Project (JMVP) is being implemented with the technical and financial assistance of the World Bank at a revised cost of Rs. 4,633.81 crore for the capacity augmentation of National Waterway-I (river Ganga) to enable movement of 1500-2000 tonne vessels. For development of IWT infrastructure in the North-East Region, Govt. sanctioned projects at a total cost of Rs. 1010 Crore including comprehensive development of NW-2 (the Brahmaputra). Projects for construction of elevated road for enhancing connectivity of Multi-Modal Terminal Pandu and construction of only inland ship repair facility are also approved and under implementation. Development of 16 more NWs have been approved worth Rs. 267 Crore for the period 2022-23 to 2025-26 by the Government. To boost green technology, a proposal for electric propelled technology vessels and hydrogen powered catamaran pax has also been made.
DGLL to promote lighthouse tourism 75 Lighthouses have been earmarked in which tourism facilities are scheduled to be completed by December 2023. The Coffee Table Book of these 75 lighthouses will be launched by PM Modi in January 2024.
Over the years, the Indian maritime sector witnessed a remarkable transformation because of the strong efforts of the government, industry stakeholders and the unwavering support of our maritime community. MoPSW has embarked on a journey of progress, embracing technological advancements, improving infrastructure, enhancing efficiency, and fostering a conducive business environment. The programs and reform initiatives have been instrumental in enhancing port capacity, facilitating port-led industrialization, enhancing coastal shipping, reviving inland waterways, and making India Atmanirbhar in shipbuilding, repair & recycling. Today's review meeting held under the leadership of Shri Sonowal has provided the roadmap for better performance of the Ministry and its subsidiaries.
Related
(News Source -Except for the headline, this story has not been edited by Bhajpa Ki Baat staff and is published from a kamal sandesh feed.)