Dr. Mansukh Mandaviya virtually interacts with agriculture ministers of States and Union Territories » Bhajpa Ki Baat
"The Cabinet Committee on Economic Affairs (CCEA), chaired by the Prime Minister Shri Narendra Modi, has approved a special package of innovative schemes for farmers with a total outlay of Rs.3,68,676.7 crore. The package focuses on the overall welfare and economic well-being of farmers by promoting sustainable agriculture. These initiatives will enhance farmers' income, strengthen natural and organic farming, revive soil productivity and ensure food security at the same time," said Dr. Mansukh Mandaviya, Union Minister for Chemicals and Fertilizers and Health and Family Welfare while addressing the agriculture ministers of Union Territories virtually.
Union Agriculture Minister, Shri Narendra Singh Tomar and agriculture ministers of more than 20 states and union territories also participated in the virtual meeting.
Dr Mandaviya said that the CCEA has approved the continuation of the urea subsidy scheme to ensure availability of urea to the farmers at a flat price of Rs 266.70 per 45 kg bag excluding taxes and neem coating charges. In the package, a commitment has been made to allocate Rs 3,68,676.7 crore towards urea subsidy for three years (2022-23 to 2024-25). This package is in addition to the recently approved Nutrient Based Subsidy (NBS) of Rs 38,000 crore for the Kharif season of 2023-24. Farmers will not need to spend extra for procuring urea and this will help in reducing their input cost.
At present, the MRP of urea is Rs 266.70 per 45 kg urea bag (excluding neem coating duty and applicable taxes) while the actual cost of the bag is around Rs 2200. The scheme is fully funded by the Government of India through budgetary support. With the continuation of the urea subsidy scheme, the indigenous production of urea will also be maximum.
The Minister for Fertilizers and Chemicals,  Dr Mansukh Mandaviya noted that Mother Earth has always provided ample sources of sustenance to mankind. "It is the need of the hour to promote more natural methods of farming and balanced/sustainable use of chemical fertilizers", he underscored. Promotion of natural/organic farming, alternative fertilizers, nano fertilizers and bio fertilizers can help in restoring the fertility of our mother earth, he added.
The Union Minister further stated that 'Prime Minister's Program for Restoration, Awareness, Nurturing and Improvement of Fertility of Mother Earth (PM-PRANAM) has been launched to encourage states to promote balanced use of alternative fertilizers and chemical fertilizers". He appealed to all the states to jointly contribute towards promotion of organic farming for preservation of soil health.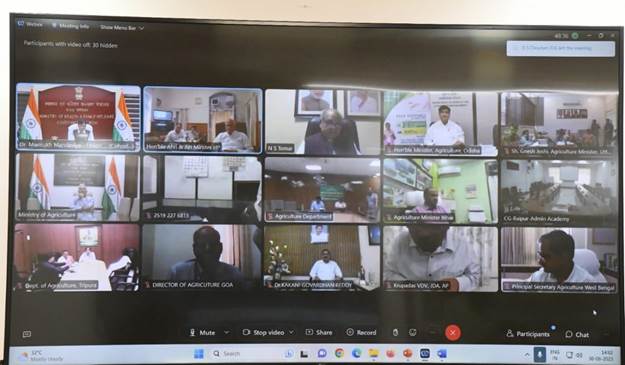 He informed that Rs 1451.84 crore has been sanctioned for Market Development Assistance (MDA) to promote organic fertilizers from Gobardhan plants. To support marketing of organic fertilizers i.e. Fermented Organic Manure (FOM) / Liquid FOM / Phosphate Rich Organic Manure (PROM) produced as a by-product from Biogas Plants / Compressed Bio Gas (CBG) Plants set up under Gobardhan initiative 1500 per metric ton as MDA scheme is included.
Such organic fertilizers will be branded under the Indian brand names of FOM, LFOM and PROM. On one hand, this will facilitate the management of post-harvest residues and solve the problems of stubble burning, and will also help in keeping the environment clean and safe. And on the other hand, it will provide an additional source of income to the farmers. These organic fertilizers will be available to the farmers at affordable prices.
Sulfur Coated Urea (Urea Gold) was introduced to overcome the sulfur deficiency in the soil and reduce the input cost of the farmers. Sulfur Coated Urea (Urea Gold) has been introduced for the first time in the country. It is more economical and better than the neem coated urea being used at present. It will overcome the deficiency of sulfur in the soil in the country. It will also save the input cost of farmers and increase the income of farmers along with increase in production and productivity.
Dr Mandaviya also appealed to States to take up effective steps to curtail diversion of urea meant for agriculture and farmers, to other sectors."Urea meant for farmers should not be diverted for industry", he stressed.
Related
(News Source -Except for the headline, this story has not been edited by Bhajpa Ki Baat staff and is published from a kamal sandesh feed.)