Dr. Mansukh Mandaviya and Sarbananda Sonowal jointly inaugurate Integrative Medicine Centre of AIIA at Safdarjung hospital » Bhajpa Ki Baat
"Integrative medicine is aimed at harnessing the potential of India's rich heritage and medical knowledge, along with using modern advancements in allopathy. Both traditional and modern medical practices would help in providing better avenues of health and wellness. It is thus, the need of the hour that different medical systems must not compete but complement each other. Only then we can ensure wellbeing of our citizens and further help in achieving health for all." This was stated by Union Minister of Health & Family Welfare and Chemicals & Fertilizers, Dr. Mansukh Mandaviya as he jointly inaugurated the Integrative Medicine Centre at Department of Integrative medicine of All India Institute of Ayurveda (AIIA) at Safdarjung hospital, with Shri Sarbananda Sonowal, Union Minister of Ayush, here today. Union Minister of State for Health and Family Welfare, Dr Bharati Pravin Pawar and Union Minister of State for Ayush, Dr. Munjpara Mahendrabhai Kalubhai were also present on the occasion.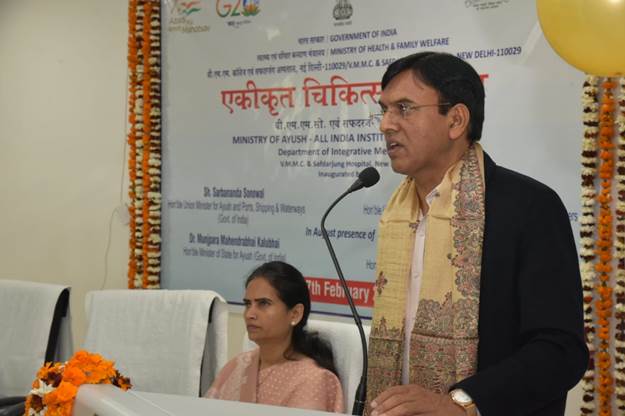 On the inauguration of new centre, Dr. Mandaviya highlighted the importance of holistic healthcare in the growth story of India. He said that "under the visionary leadership of Hon'ble Prime Minister, country has finally connected health with its development story and citizens must remain aware about their health which in turn is crucial for wealth creation." He further added that "a country can only develop when its citizens are healthy". Reiterating the government dedication to reach grassroots level and creating last mile delivery of healthcare services, Dr. Mandaviya stated that the health and wellness programs are being run in more than 1,56,000 Ayushman Bharat Health and Wellness Centres (AB-HWCs) across the country. He said that "India has achieved opening more than 1.56 lakh HWCs before 31st December 2022 which are turning out to be crucial in providing various types of services to our citizens." "Specifically for wellness, yoga and other practices are also being conducted at these HWCs regularly" he further added.
He emphasized that "the Government has decided to open such Integrative Medicine Centres at all government medical establishments, especially all AIIMS in the country." Opening such Centres will help in initiating co-location of practitioners of Indian system and modern medicine, thus harmonizing both medical systems and providing joint multidisciplinary care to the patients.
Emphasizing the significance of this Integrative approach, Dr. Mandaviya said that "Stakeholders like health sector experts, private medical sector are also pushing forward for this integrative medicine approach." Highlighting India's stature in popularizing traditional practices, he brought attention to global acceptance of India's integrative approach. He said that "today World Health Organisation (WHO) and other global counterparts are appreciating India's efforts in mainstreaming and streamlining different medicinal systems." "India has shown the world how we can collaborate with the intention to provide quality healthcare services to our citizens and is being recognized globally for its health and wellness initiatives", he further added. He was hopeful that the tireless efforts of all the stakeholders will ensure healthy future for our citizens and country.
Shri Sarbananda Sonowal congratulated the hospital for this new Centre and was hopeful that staff would perform their duties diligently. Appreciating the rapid strides made by the institute, Shri Sonowal said, "It is a matter of pride that the country is moving towards holistic healthcare and integrative medicine is a key step in this goal."
Dr Bharati Pravin Pawar informed everyone about the significance of Yoga, Ayurveda, Homeopathy, Siddha and Unani medical systems that have grown especially due to the challenges of Non-Communicable Diseases (NCDs), multidrug-resistant diseases, lifestyle disorders, long term diseases. She said that Ministry of Ayush and Ministry of Health & Family Welfare are working in close coordination with stakeholders. Consequently, today this Centre is being inaugurated which will cater to patients and provide holistic care. She said that such Centres will be crucial in providing services like Panchakarma therapies & concomitant medicines which will provide a promotive, preventive, curative and rehabilitative therapy. The Centre will be key in developing integrated standard protocols of patient care and spreading awareness among patients about a healthy lifestyle. Services like Specialty OPD, Panchakarma Therapy, Free Ayurvedic Medicine Dispensary, and Dietary consultation will be offered at the centre. She also lauded the efforts of Safdarjung Hospital and hoped that with this Integrative Medicine Centre, it will act as an example for other such Centres to follow.
Shri Vaidya Rajesh Kotecha, Secretary (AYUSH), Dr Atul Goel, Director General of Health Services, Prof. Tanuja Nesari, Director AIIA, Dr B L Sherwal, Medical Superintendent, Safdarjung Hospital, along with senior officials from Ministry, faculty and staff of Safdarjung Hospital were present at the event.
Related
(News Source -Except for the headline, this story has not been edited by Bhajpa Ki Baat staff and is published from a kamal sandesh feed.)