Dr Mandaviya urges youth to become 'Jan Aushadhi Mitra' for publicising benefits of Jan Aushadhi Kendras » Bhajpa Ki Baat
Union Minister for Chemicals and Fertilizers and Health & Family Welfare Dr Mansukh Mandaviya today launched NaMo Free Dialysis Centre and 100th Janaushadhi Kendra at Bengaluru South in the presence of Chief Minister of Karnataka Shri Basavaraj Bommai on occasion of 5th Jan Aushadhi Diwas. The Minister was also inaugurated NaMo Day Care Center and Flagged off 4 NaMo Mobile Healthcare Units.
While addressing the gathering, Dr Mansukh Mandaviya said that the first priority of the government is to provide cheap and better quality medicines to all citizens. Keeping this in mind, Jan Aushadhi Kendras have been opened across the country. At these kendras, every citizen, whether poor or rich, can buy medicines at very cheap prices. The Minister further said that disease affects both rich and the poor equally, but the rich man can buy medicines at any cost but the poor man is unable to get treatment many times due to lack of medicine, but our government is providing low cost and better quality medicines to everyone through these centers.
Highlighting the slogan of Jan Aushadhi Diwas 'Sasti bhi, Achhi bhi', the Minister also said that the quality and affordable medicines are available on Jan Aushadhi Kendras. NGOs and many others joined the journey of Jan Aushadhi and today more than 9000 Jan Aushadhi Kendras are in existence. Union Minister urged the youth to become 'Jan Aushadhi Mitra' to publicise the benefits of Jan Aushadhi Kendras for betterment of the people. Dr Mandaviya informed that opening a Jan Aushadhi Kendra is very easy and anyone who opens Jan Aushadhi Kendra gets 20% commission.
Union Minister also narrated last year's incident when PM was interacting with the beneficiaries of Jan Aushadhi Pariyojna, a woman beneficiary shared her experience that she belongs to a poor family, she has two sons and her husband is earning15-20 thousand rupees monthly. She said that she has been suffering from two-three diseases and around Rs 5,000 used to get spent on her medicines only. When she came to know about Jan Aushadhi Kendras and started availing the benefits, she started getting the medicines at Rs 1100. She found that the quality and effect of this medicine from Jan Aushadhi Kendra was same and she could save around Rs.4000 in this way.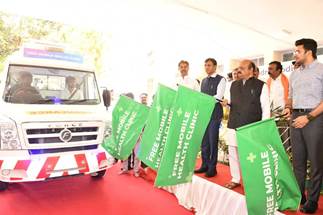 Department of Pharmaceuticals is celebrating the Jan Aushadhi Diwas on 7th  March 2023. Events have been planned in different cities starting from 1st of March, 2023 to 7th  March, 2023 to create awareness about the Jan Aushadhi Scheme.  Seminars, participation of children, women and NGO's, Heritage walks and Health camps and many other activities engaging PMBJKs owners, Beneficiaries, State/UT officials, Public Representatives, Doctors, Health Workers, Nurses, Pharmacists, Jan Aushadhi Mitra's organised at different locations across the country covering all State/UTs. This campaign generated awareness about the usages of generic medicines and benefits of Jan Aushadhi Pariyojana and its salient features and achievements.
With an objective of making quality generic medicines available at affordable prices to all, Pradhan Mantri Bhartiya Janaushadhi Pariyojana (PMBJP) was launched by the Department of Pharmaceuticals, Ministry of Chemicals & Fertilizers, Government of India in November, 2008. As on 31st January, 2023, the numbers of stores have increased to 9082. Under the PMBJP,743 districts out of 764 districts of the country have been covered.
This scheme ensures easy reach of affordable medicine to the people in every nook and corner of the country. The Government has set a target to increase the number of Pradhan Mantri Bhartiya Janaushadhi Kendras (PMBJKs) to 10,000 by the end of December,2023. Product basket of PMBJP comprises 1,759 drugs and 280 surgical instruments. Further, new medicines and nutraceuticals products like protein powder, malt-based food supplements, protein bar, immunity bar, sanitizer, masks, glucometer, oximeter, etc. have been also launched.
Related
(News Source -Except for the headline, this story has not been edited by Bhajpa Ki Baat staff and is published from a kamal sandesh feed.)