Anurag Singh Thakur inaugurates the fourth Y20 Consultation Meeting in Pune » Bhajpa Ki Baat
The fourth Y20 Consultation Meeting was held at the Symbiosis International University (SIU) in Pune today, in collaboration with Ministry of Youth Affairs and Sports, Government of India. Union Minister for Youth Affairs & Sports and Information & Broadcasting, Anurag Singh Thakur was the Chief Guest for the inauguration ceremony. Dr. Sundeep Waslekar, President, Strategic Foresight Group was the Keynote Speaker. Also present on the occasion were Prof. (Dr.) S. B. Mujumdar, Founder & President, Symbiosis, and Chancellor, SIU, Dr. Vidya Yeravdekar, Pro Chancellor, SIU, Mr. Pankaj Singh Director, Ministry of Youth Affairs and Sports,  Anmol Sovit, Chair Y20 India and Rajani Gupte, Vice Chancellor, SIU.
Speaking on the occasion, Union Minister for Youth affairs & Sports and Information & Broadcasting, Anurag Singh Thakur, said "I am delighted to be in Pune, a city known for its thriving manufacturing industry, which is home to some of the world's largest automobile engineering and electronics companies. Pune's reputation as the cultural capital of Maharashtra and a leading education hub cannot be overstated. With over 10 universities and 100 institutes, the city has been a beacon of knowledge and culture for generations, attracting students and scholars from across the world. Institutions like Symbiosis provide quality education to thousands of students across the globe. There could not be a better place to organize this Y20 event. Such institutions sow and nurture the seeds of change."
Delighted at the wide participation for the event he stated, "For this Consultation, I am glad that we have representation from more than 44 countries, and 97 students from those countries. We also have 72 students who are the winners of 36 such events, from various parts of Maharashtra."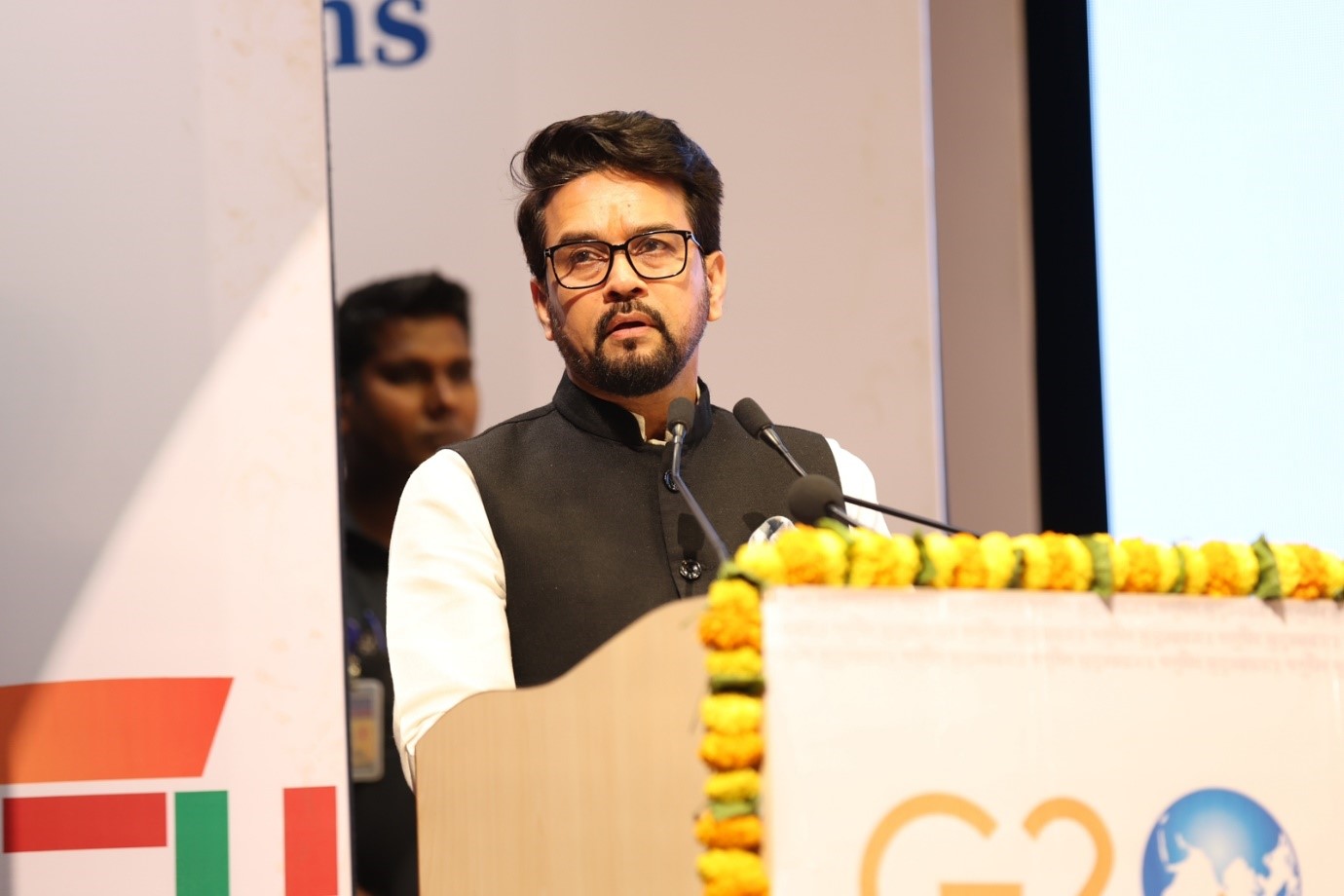 Speaking on the importance of contribution of young people in the development of India and the world the Minister states, "Young people are equal stakeholders in the present, their role is today, now and here. Look around, India is making headlines across the world, of being the world's fastest growing large economy. From being among fragile five economies in 2014, we are now among the first five economies of the world. In a span of eight years, we have become third globally among startups, with over 77000 startups and more than 107 unicorns. Whether it is social media led social causes or billion dollar startups, our youth are leading from the front. The pathbreaking stories of our youth serve as inspiration for people all over the world to follow their passions and make positive impact in their respective fields."
Referring to India's G20 Presidency and the Y20 summit, the Minister expressed, "India's hosting of the prestigious G20 is a great honour for us.  It is a privilege for me and our Department as well to host the prestigious Y20 summit. This presents an extraordinary opportunity to engage the collective efforts of the world's youth on issues which matter to them the most. India's role in this summit is not limited to speaking, it also aims for youth to be heard and actively shape the global agenda. Accordingly, the Y20 summit 2023 has identified five key themes which will serve as guiding light for our youth. These priority areas point to the urgency with which the world has to reconcile with the reality of changing times in our quest to survive and thrive."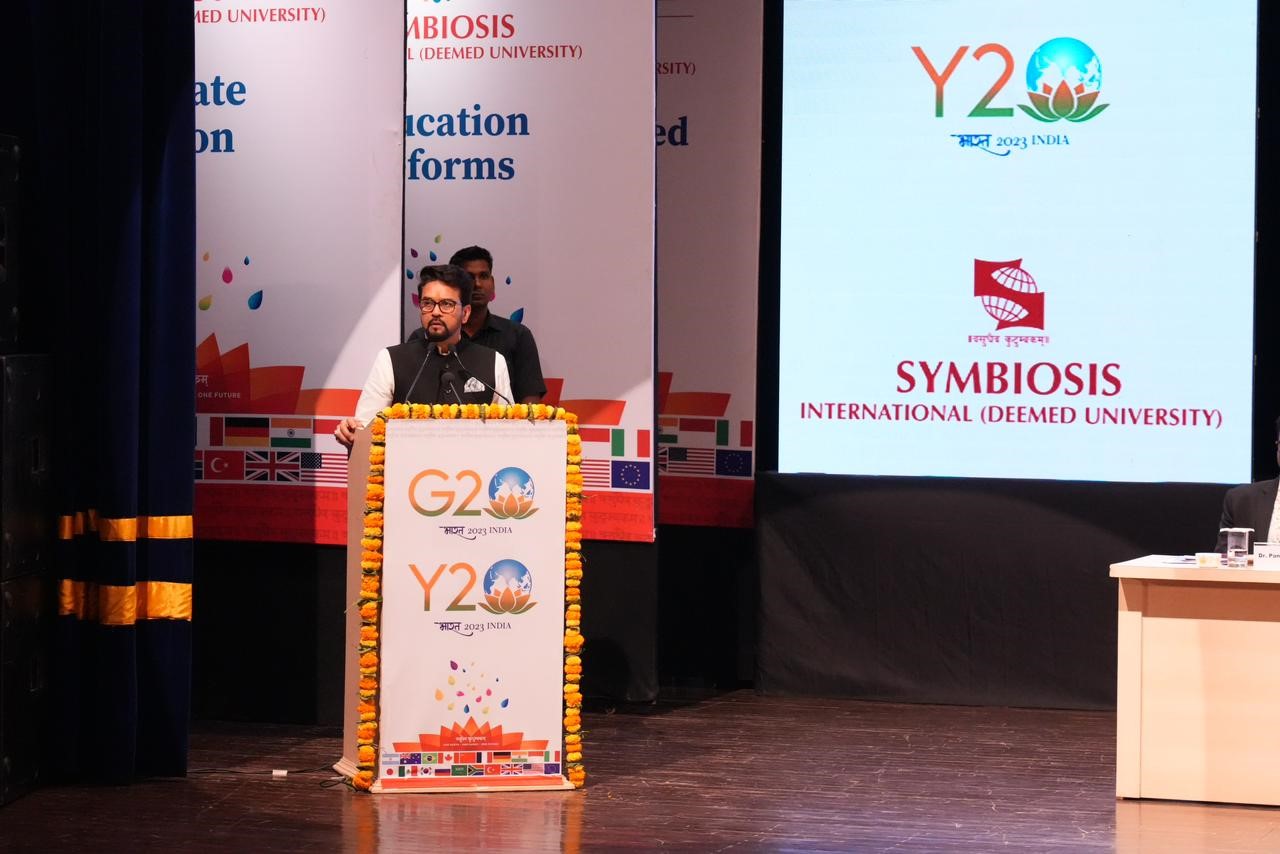 Speaking on the theme for today's Consultation Meeting, he said, "Today's consultation is on the theme Peacebuilding and Reconciliation: Ushering in an era of no war. The vantage point from which we view this issue will determine how India responds in the decades ahead. Whether it is the ongoing conflict between two countries, the far-reaching impact of pandemic, or the persistent economic and political instability, these issues raise concerns about regional and global security and highlight urgent need for effective collaboration and coordinated action."
Emphasising on the importance of multilateralism he said, "At WTO, we see that no one is supporting multilateralism in a big way. We really need to talk about multilateral institutions and how these could be more useful for the globe, and not for specific countries alone. The need for peace and reconciliation has never been more apparent. As we strive towards a world where warfare is no longer a viable choice. India has been a believer in a culture which promotes dialogue, development and diplomacy. That is the message from India, our diplomatic approach rooted in Vasudhaiva Kutumbakam is characterized by Ahimsa."
On India's role in peace building he said, "India has played an active role in promoting peace and reconciliation on global stage. We have been a strong advocate for disarmament, non proliferation and have contributed to UN Peacekeeping efforts.
Reflecting on newer emerging dimensions to war he said, "It is important to reflect on questions which define peace in the 21st century. We must break away from traditional notions of peace and war. Is the absence of a border-related war the true meaning of era of peace, or is there more to it? How will we tackle the war of words on social media, the clutter, the noise, which is disrupting our social media space? Is the nature of the platform such that it feeds such content when posted? How will you meet the challenges faced by lifestyle choices which have unleashed a war on your health? How will you reclaim your peace, space and sense of happiness in an age where we are constantly connected and disrupted by technology? How will we respond to global emergencies, will we beat the repercussions of climate change and food scarcity on a war footing? As we look to the moon again and Mars one day, how will we as civilization respond to injustice beyond our borders on our planet? Will we look away to find peace or promote the values we believe in? Is peace just a symbol? Is it the absence of violence? And what makes a society, community and nation peaceful, asked the Minister.
In conclusion, the Minister said, "The active involvement of young minds present here will lead us to a deeper understanding of the challenges we face as a society and humanity,  and the ways to resolve them at the Y20 discussion forum. As per the dream of Swami Vivekananda, we have to ensure that the 21st century is ours. We are going from Amrit Kaal to Swarnim Kaal. The youth have a crucial role to play in this journey of ours."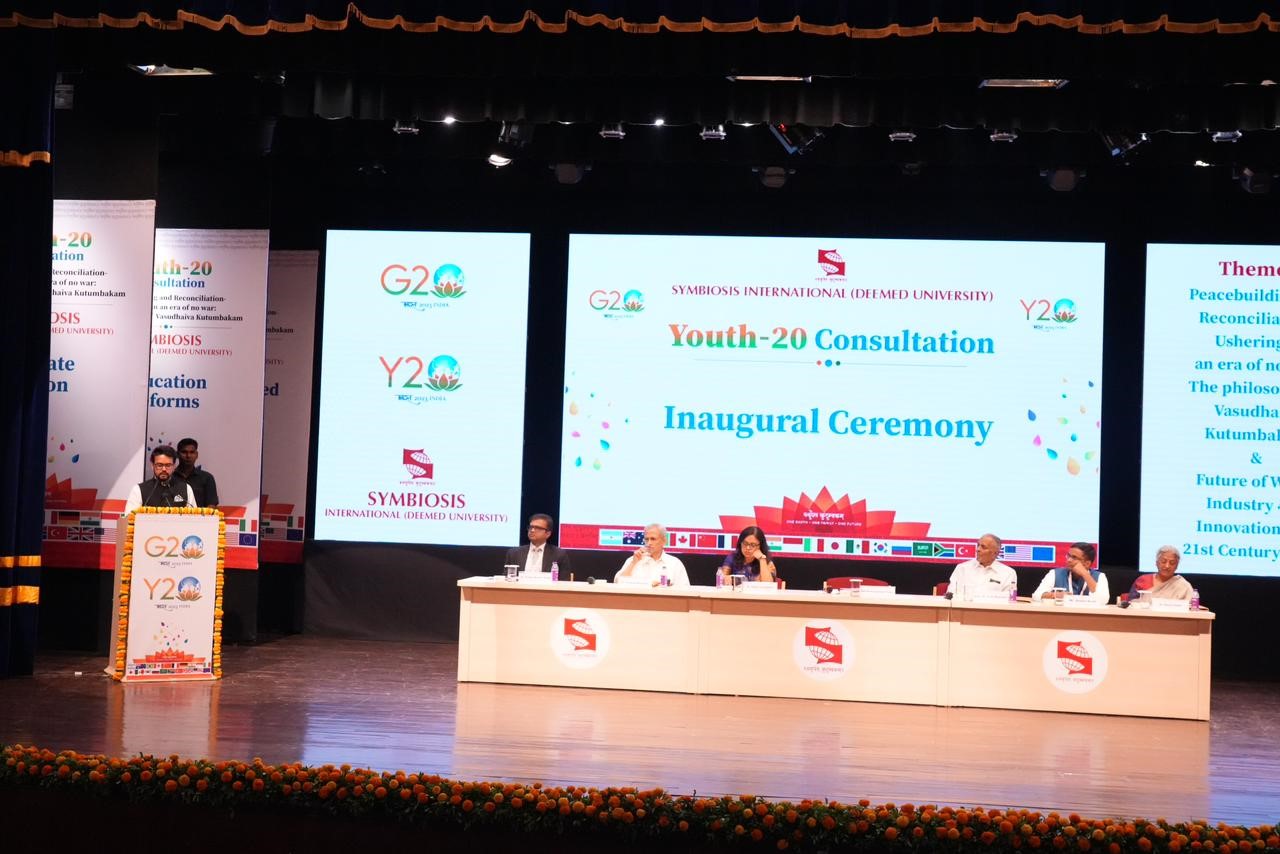 Addressing the audience in his Keynote Address, Dr Sundeep Waslekar, President, Strategic Foresight Group, said, "Young people will craft the future. What happens to our society and planet will be decided by what young people think. Today a world without war is not a utopian dream but a pragmatic reality. It has taken twelve thousand years for the civilization to evolve. All this may disappear in a global war.  Young people have a tremendous responsibility to ensure a peaceful world. Only the philosophy of Vasudhaiva Kutumbakam can ensure that."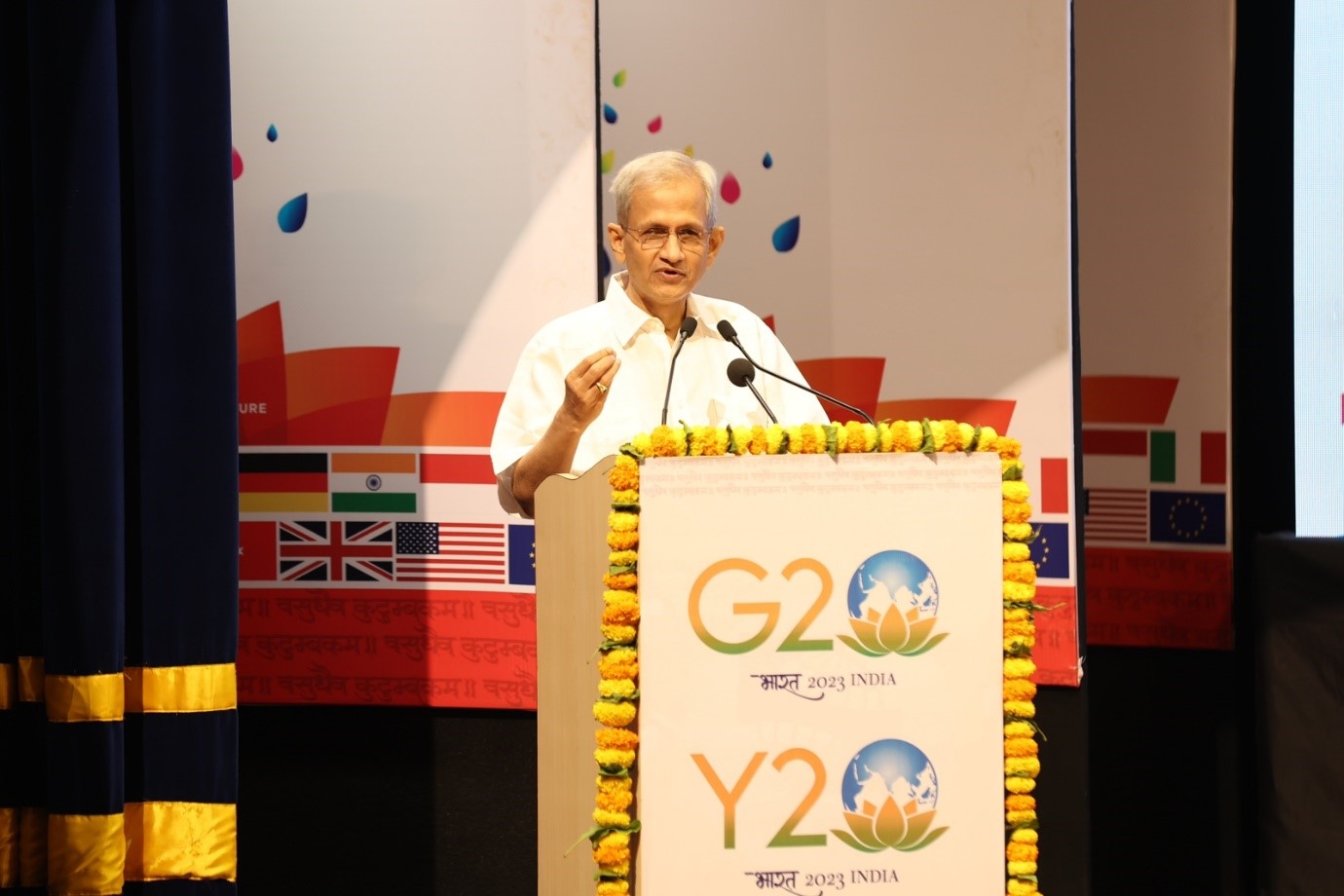 Founder and President – Symbiosis and Chancellor, SIU, Prof (Dr.) S. B Mujumdar expressing his hope for evolution of a global family said, "Symbiosis  began with an aim to bring foreign and Indian students together. Education, is the only means of doing that. It will promote international understanding between Indian and foreign students. A day will come when nations with different boundaries will come together, live together and understand each other. There will be no war. I do believe that Vasudhaiva Kutumbakam is the ultimate human destiny. We at Symbiosis try to translate this to reality through education."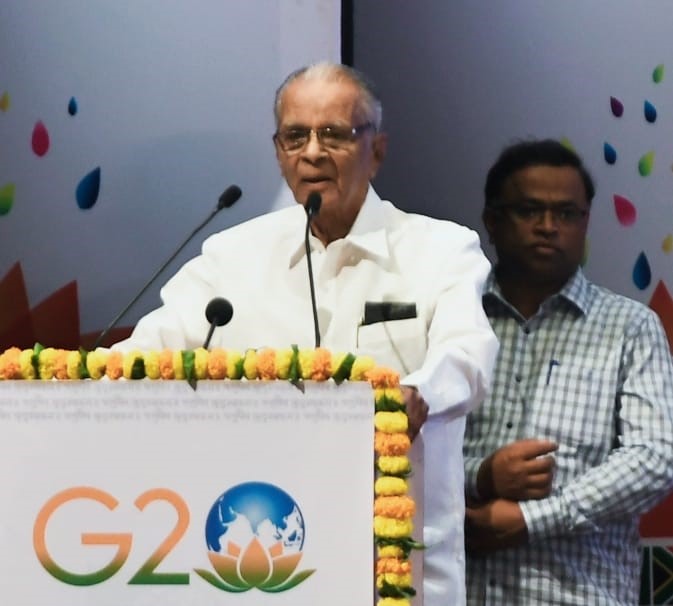 On the side-lines of the Consultation Meeting and with an endeavour to celebrate the spirit of International Women's Day, certificates of participation were given to twenty-five women between the age group of 18-35 who participated in a Mobile Film Making workshop held on the 9th and 10th of March at Symbiosis Institute of Media and Communication. The workshop was organised by a collaboration between Symbiosis Institute of Mass Communication, Press Information Bureau, Mumbai, and National Film Development Corporation, Ministry of Information and Broadcasting, Government of India. The young women participants belong to rural areas around Pune adopted by Symbiosis International University under its outreach program.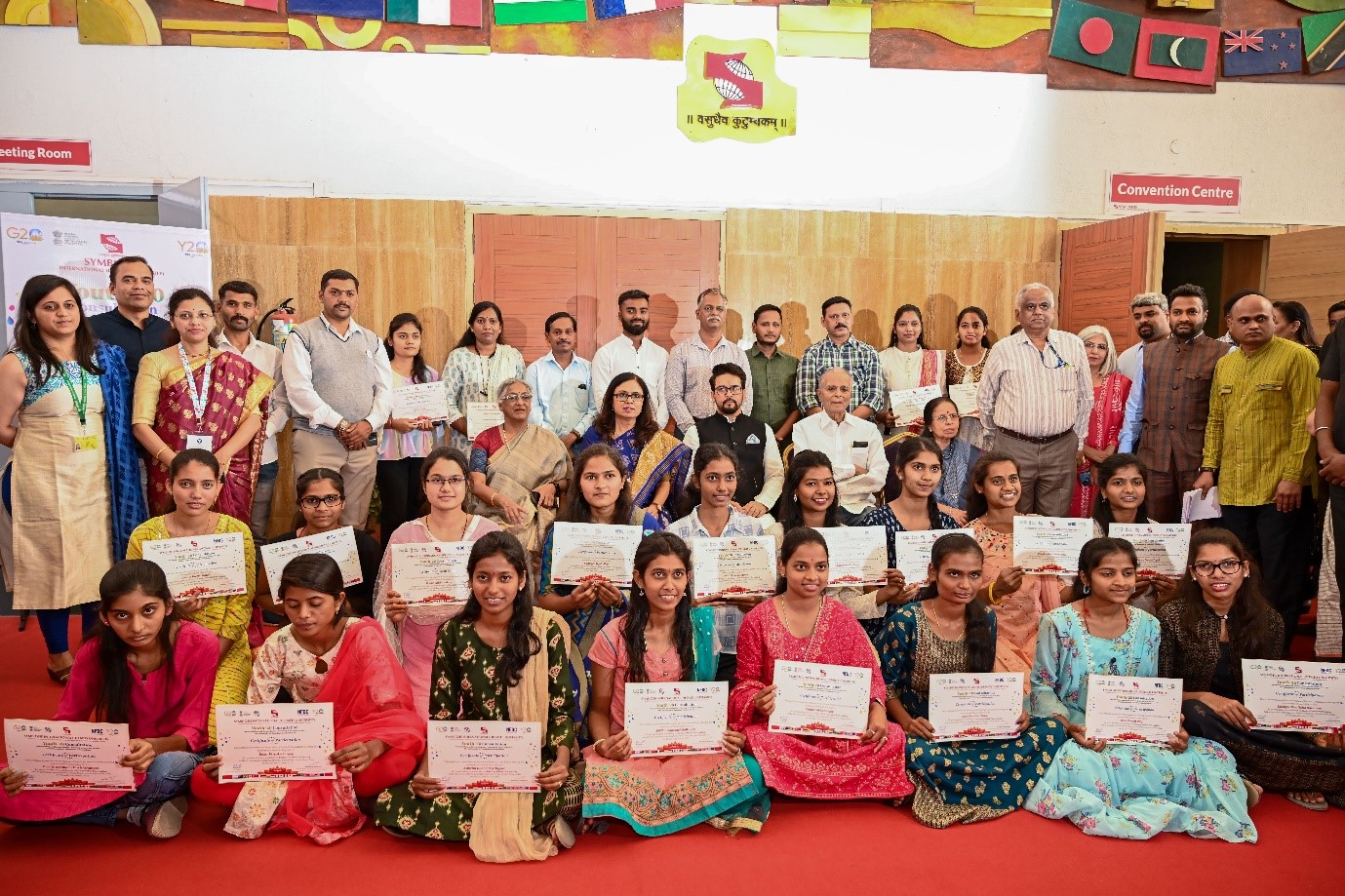 Y20 encourages youth as future leaders to raise awareness of global issues, exchange ideas, argue, negotiate, and reach consensus. The G20 rotating presidency bears the responsibility of hosting the youth summit, which usually takes place some weeks prior to the traditional forum to know what the youths are thinking and incorporate their suggestions in their own policy proposals. It is an attempt to create a connecting point between G20 governments and their local youth. The Y20 India Summit in 2023 would exemplify India's youth-centric efforts and provide an opportunity to showcase its values and policy measures to the youth across the globe. Find out more about the Y20 during India's presidency here.
The G20 or Group of Twenty is an intergovernmental forum comprising 19 countries and the European Union. It works to address major issues related to the global economy, such as international financial stability, climate change mitigation, and sustainable development. You learn more about G20 by clicking here.
India assumed the G20 Presidency on 1st of December this year from Indonesia and will convene the G20 Leaders' Summit for the first time in the country in 2023. A nation deeply committed to democracy and multilateralism, India's G20 Presidency would be a watershed moment in her history as it seeks to play an important role by finding pragmatic global solutions for the wellbeing of all, and in doing so, manifest the true spirit of 'Vasudhaiva Kutumbakam' or the 'World is One Family'.
Related
(News Source -Except for the headline, this story has not been edited by Bhajpa Ki Baat staff and is published from a kamal sandesh feed.)