Agriculture Minister inaugurates Conference on 'Promoting Kisan Drones- Issues, Challenges and Way Forward' » Bhajpa Ki Baat
Union Minister of Agriculture and Farmers Welfare Shri Narendra Singh Tomar today inaugurated and addressed the conference on "Promoting Kisan Drones: Issues, Challenges and the Way Ahead" organized as part of Azadi Ka Amrit Mahotsav. Shri Tomar said that the government is promoting the use of drones for the convenience of the farmers, reducing the cost and increasing the income. For promoting use of Kisan Drones, the government is providing 50% or maximum Rs. 5 lakh subsidy to SC-ST, small and marginal, women and farmers of northeastern states to buy drones. For other farmers, financial assistance will be given upto 40 percent or maximum Rs.4 lakh, the Minister Added.
Speaking on the multi-faceted use of drones in agriculture, Union Agriculture Minister Shri Tomar said that Prime Minister Shri Narendra Modi has initiated the use of drones in agricultural activities in the wider interest of farmers. The government is promoting the use of 'Kisan Drone' for crop assessment, digitization of land records, spraying of pesticides and nutrients for which provision has also been made in the budget. Modernization of the country's agricultural sector is on the agenda of the government led by Prime Minister Shri Modi.
He said that To promote use of drones in agriculture and make drone technology affordable to the farmers and other stakeholders of this sector, financial assistance @ 100 % cost of drone together with the contingent expenditure is extended under Sub-Mission on Agricultural Mechanization (SMAM) to the Farm Machinery Training & Testing Institutes, Institutions of Indian Council of Agricultural Research, Krishi Vigyan Kendra (KVK) and State Agricultural Universities (SAUs) for its demonstration on the farmer's fields. Farmers Producers Organizations (FPOs) are provided grants @ 75% for purchase of drones for its demonstration on the farmers' fields.
In order to provide agricultural services through drone application, financial assistance @ 40% of the basic cost of drone and its attachments or Rs.4 lakhs, whichever less is also provided for drone purchase by existing and new Custom Hiring Centers (CHCs) under Cooperative Society of Farmers, Farmers Producer Organizations (FPOs) and Rural entrepreneurs. The agriculture graduates establishing CHCs are eligible to receive financial assistance @ 50% of the cost of drone up to a maximum Rs.5.00 lakhs. In addition to the already identified institutions for drone demonstration, other agricultural institutions of the state and central government, central public sector undertakings engaged in agricultural activities have also been brought in the eligibility list for financial assistance for farmers' drone demonstration. The Union Ministry of Agriculture and Farmers Welfare is providing assistance to the State Governments through several schemes to promote agriculture across the country and to increase the production and productivity, besides reducing the human labor associated with various agricultural activities. The Government is also helping farmers access modern technology to improve the use efficiency of inputs such as seeds, fertilizers and irrigation.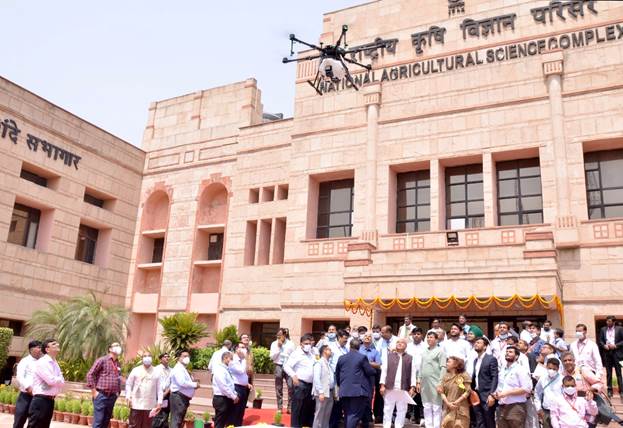 Union Minister of State for Agriculture and Farmers Welfare, Shri Kailash Choudhary said that this new technology is aimed to reach more and more farmers, which will facilitate them, reduce the cost and increase their income. Under this vision of Prime Minister, work is being done expeditiously under the guidance of Union Agriculture Minister Shri Tomar. During the attack of locust, the government had also promptly used drones and helicopters for rescue.
Agriculture Secretary Shri Manoj Ahuja said that the conditions are favorable to take drones to the farmers and the government is also committed in this regard. ICAR Director General Dr. Trilochan Mohapatra said that ICAR is contributing through research and training. With this, more and more farmers will be ready to use drones. Joint Secretary Smt. Shomita Biswas delivered the welcome address. Additional Secretary Shri Prashant Kumar Swain proposed vote of thanks. Farmers and entrepreneurs of drone, fertilizer and pesticide sector, startup operators, representatives of IFFCO and KVK were present in the conference.
Related
(News Source -Except for the headline, this story has not been edited by Bhajpa Ki Baat staff and is published from a kamal sandesh feed.)